The B+ and C segment has witnessed a lot of action in the recent months. First came the SX4 diesel followed by a string of launches such as the fluidic Verna, Ford Fiesta and the recent one the Nissan Sunny. After the hatchback segment, this segment was bound to receive the lime light as people who had bought the hatchbacks would soon look for an upgrade.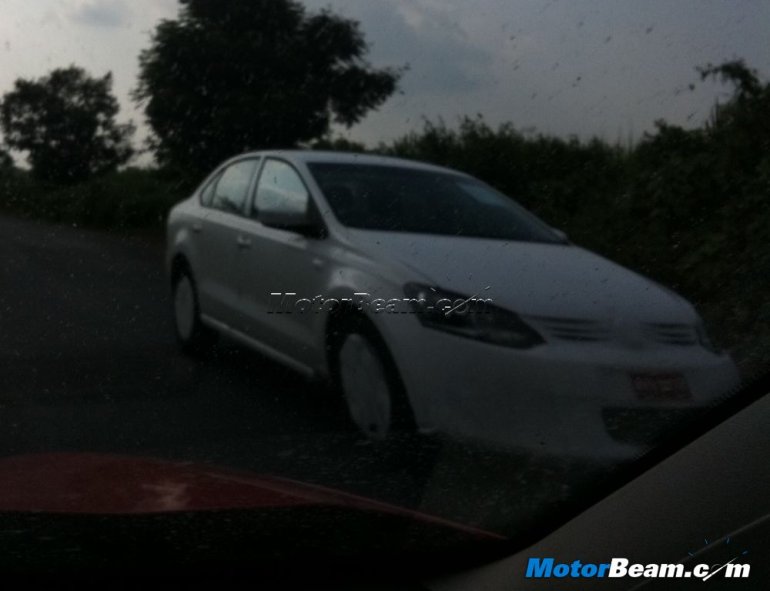 With the rise in the number of launches and existing players offering huge discounts on their respective models, VW is not going to fold its hands. Our good pals at Motorbeam have snapped up what could possibly be a facelifted, production ready Vento for the Indian market.
Please note that recently VW has quietly sent a better equipped version of the Highline variant to its dealers without notifying the automotive press.
But this test mule has some visual treats that are completely different from the existing Vento. Chief of the list is the smoked headlamps which are clearly visible in the spy pic. Current Vento's headlamps come with crystal clear surrounds. The front bumper and the grill is drenched in white camouflage hinting that there is something cooking there as well. Is Volkswagen working to differentiate the Polo and Vento front-ends?
Further details are hard to come by.
We suspect that facelifting the Vento is a knee jerk reaction to the recent sightings of face lifted Honda City – the chief rival of the Vento. Honda India will soon come with a facelifted Honda City with some minor upgrades. The recent price cut on the Honda City has managed to send jitters down the spine of VW because the City managed to outsell every other car in its segment. In such a scenario, VW needs to claw back some of its market share soon.
This will be the first time a car manufacturer has facelifted a model after about a year from its launch. While manufacturers have retired cars immediately after facelifting (Verna and previous gen Accord), we have not yet seen yearly revisions.
This can also be a special edition Vento which may be launched on the sidelines of the first ever Indian GP race held in Noida. VW India has done a similar campaign before with the Vento IPL edition launched prior to the IPL cricket matches.
Irrespective of whether it is a Vento 2.0 or Vento Formula 1 edition, what changes do you wish to see in the Vento?
[Source - MotorBeam.com]