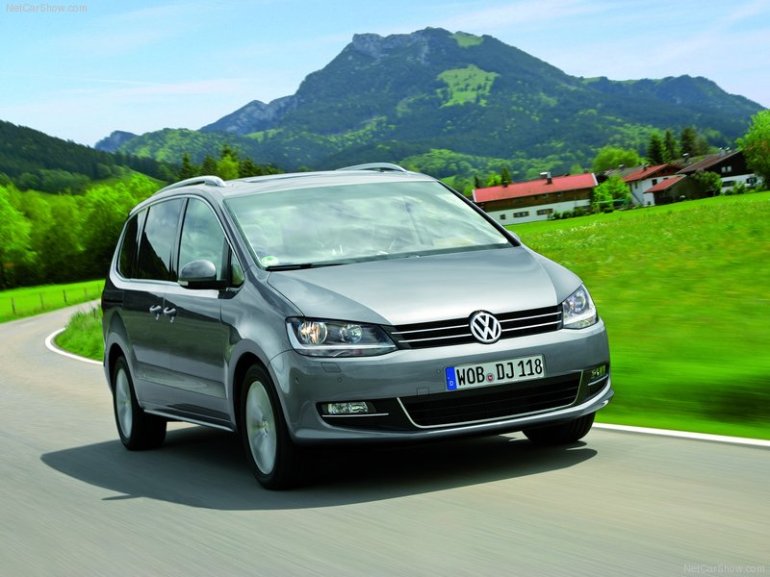 Over the years, the Indian Auto market has moved from entry hatchbacks to B+ hatchbacks to entry level sedans. However, in 2012 and we are observing a surge in liking for people movers and compact SUVs.
Mahindra and Toyota recently facelifted their contenders in the MPV segment. Maruti Suzuki is getting ready to launch to the Ertiga minivan in India. Chevrolet India is also busy testing the their MPV after giving the current runner a cosmetic upgrade and a new heart. We've put out stories on Ford's extended B-Max and Hyundai's ambition desiring to tread this space in the near future.
Volkswagen could think of bringing the Sharan to India to fight the king of the segment – Toyota Innova. The Volkswagen Sharan (which means 'Carrier of Kings') is a 7 seater MPV from VW's international portfolio which is already in its second generation. The Sharan comes with a distinct Volkswagen styling similar to the recent VW models such as Jetta, Passat and Vento.
Does the VW Sharan look good?
Oh yes, definitely. Recent VW styling has been on a very conservative side. Thus, there may be nothing striking about the VW Sharan in first glance but it is certainly not an eye sore. The most striking feature would be the sliding doors which means you can park it in tight spots and still don't have to worry about getting out of it. Rest of the design is standard VW language such as a double line chrome grill, bi-xenon headlights with LED daytime etc.
What about the Sharan's interiors?
Just like the exteriors, the VW Sharan's interiors also uses a lot of components from VW family. The Sharan can be ordered in 5, 6 and 7 seater configuration. The second and third row seats fold flat to maximize luggage space. The luggage space varies from 711 litres to 2,297 litres depending on which seats are folded flat.
What powers the VW Sharan?
Internationally, the VW Sharan is powered by two TSI engines deliver 150PS and 200PS, while the two TDIs develop 140PS and 170PS. Each can be ordered with a Manual or the VW's superb DSG gearbox. European tests claim a fuel economy of 20km/l
What about Safety?
The VW Sharan comes loaded with various features such as:
Nine airbags
ESP, ABS, EBD and brake assist.
An anti-slip regulator
Electronic differential lock
Engine Drag Torque Control (EDTC)
Trailer Roll Stabilisation Program (TRSP).
What about Price?
Here is the tricky part – VW Sharan costs around 29,000 Euros in Europe which translates to 18 lakhs in India. At that price, it would be a showroom display piece. But with some cost cutting such reduced engine capacity, less tech features and high level of localization, it is definitely possible to bring the cost down to 10-13 lakhs.
In such a scenario, do you think the VW Sharan makes perfect sense for India?
What are its alternatives?
Volkswagen showcased the Bulli concept recently which is reportedly having production ambitions. It could spawn two versions, one as a heritage model like the Beetle with no cost worries, and another as an economy family van (the concept was 3.99 meters long, spot on to receive small car benefits in India) with two rows of seats that each accommodating three people.
Let's not forget Volkswagen also has the relatively unused Polo platform. We have seen its peers getting creative with B category cars. Volkswagen has used it thus far only to build a hatchback and sedan. And then of course there's the hotbed in the name of the MQB platform that can be used to build anything from a urban runabout to a track tool.
With so many options in front of Volkswagen, it must be considering what's best for India as the MPV market is about to explode!