Earlier reports suggested that Volkswagen was on the lookout for another plant in China. However, we can confirm today that VW has finalized their all new plant and has just conducted the ground breaking ceremony.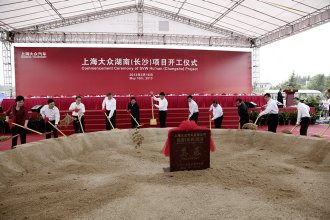 The all new plant is being built in Changsha, in the province of Hunan which is located in south-central China. This particular factory is built in alliance with Chinese partner Shanghai VW and not FAW VW (VW has two alliances in China).
The new plant comes in to help VW achieve their target of producing 4 million vehicles per annum by the year 2018. This Changsha plant is one of seven new plants to be built in China (by both Shanghai VW and FAW VW) this year and over the coming years. The total investment is over 9.8 billion euros.
Speaking about the Changsha plant, it will be complete by 2015 and will have a capacity to manufacture 300,000 units per annum. The plant will have a state of the art facility for a press shop, body shop, paint shop and final assembly.
Shanghai VW controls plants in Shanghai, Nanjing, Yizheng while further factories are being built in Ningbo and in Urumqi.
FAW VW has control over vehicle plants in Changchun and Chengdu with ongoing work in a new factory in Foshan.
Prof. Dr. Jochem Heizmann, Member of the Board of Management of Volkswagen AG and President and CEO of Volkswagen Group China -
"We are expanding our capacity in China to four million vehicles per year by 2018 in order to meet demand from our Chinese customers. We will meet our environmental responsibility in Changsha and set another milestone in resource-efficient production with the new factory."