Some say that motorcycle racing began when the second bike was made. Yes, motorsports has this distinct charm which separates it from almost everything in this world. I guess the adrenaline rush which motorcyclists talk about, reaches the next level at a race track. Now I have been at the race track before. Three years of being a motorcycle journalist has given me a lot of great bikes to ride in the closed safe haven of a circuit. So when TVS asked me to ride their One Make series racing machine, I was on top of the world.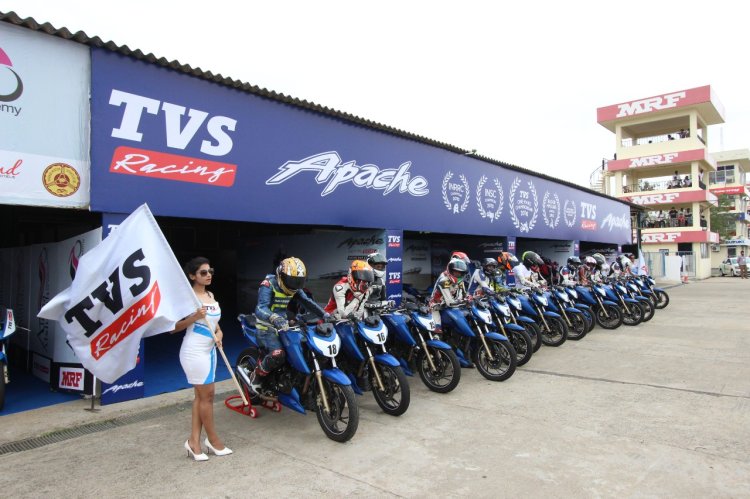 Yes, a little scared too. After all, it was not just a small test ride, but a proper race. A support race for the TVS One Make Racing championship, with the motorcycle media fraternity. TVS Racing has been enriching Indian motorsports for more than three decades now. Right from a 50 cc moped which had a top speed of 105 km/h in 1984, to a 31 PS 160 cc machine which tips the scales at less than 100 kilos in 2017.
TVS has been using their experience to make their road going products. The RTR acronym is living proof for that, which expands to Racing Throttle Response. Yes, that's the lineage we get to experience on the streets. The TVS Apache RTR 200 is powered by a 197.75 cc air cooled mill which is capable of producing 20.05 PS of maximum power at 8,500 rpm and 18.1 Nm of peak torque at 7,000 rpm. The track machine though is slightly more powerful than the stock bike and tops out at around 23 PS.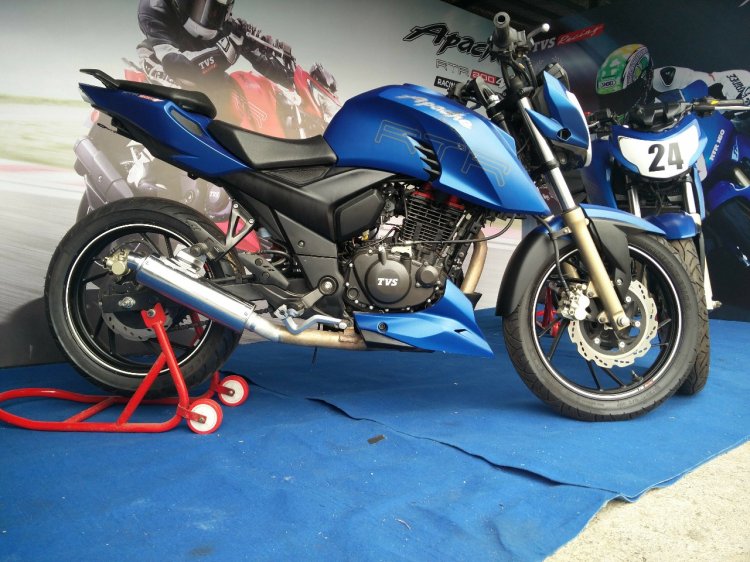 The Pro kit which has been developed by TVS Racing, gets the same telescopic shocks up front and a monoshock in the rear from Kayaba but they have been tuned up for the race track. The suspension setup is fine tuned for every rider as well as for every race track. So a setup for Chennai's MMRT, where I got to ride, will not work for Kari and vice versa.
And the progress they have made from the road going version is just delightful. The slightly harder setup is brilliant for the racer track. While bumps are not something which you come across everyday at the race track, especially since a lot of sections of MMRT has been freshly laid, the setup reacts to rider input with blazing accuracy. The handling is sharp and even the smallest of effort gave the exact feedback I was searching for.
Session 1 at MMRT included a 30 min practice run. And as Barney Stinson would have said it, it was time to 'Suit up'. And believe me that was a herculean task. Especially when you are miles away from the fitness level professional racers are at.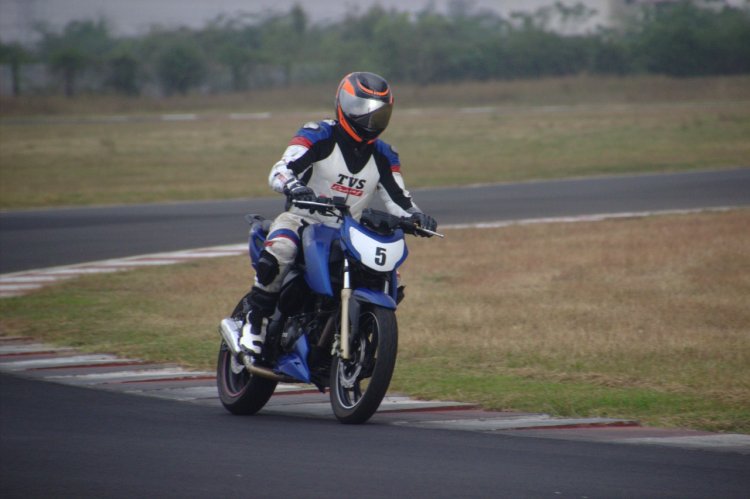 After a grueling 15 minutes of trying to slide myself into the leathers it was time to hit the tarmac. Now the first couple of laps went into familiarizing myself  the bike and trying in vain to find the right line for every corner. By the time the session ended I knew one thing for sure. Motorsports is fun but not an easy task as racers make it seem every other weekend. Special thanks to the weather lords for making it a sunny weekend.
The Pirelli tyres with Sport Demon up front and Angel GT in the rear are super sticky and despite my obvious lack of experience in track riding, were very forgiving. MMRT with its 3.717 km of asphalt is a heaven. The small S section post C3 was quick to become my favourite but getting a hang of C10 was my Achilles heel. Thankfully the good folks at TVS Racing did not reveal any timings but even my slow self couldn't hide the ear to ear grin I had plastered on my face.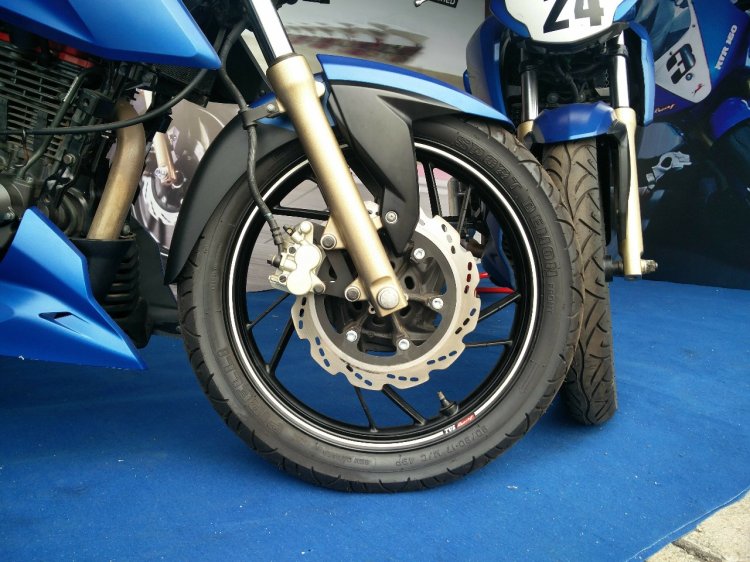 The cams of the TVS Apache RTR 200 race edition have been tuned up for performance. The bike is also around 15 kg lighter, further improving the power to weight ratio. The free flow exhaust is also a delight to hear. The bike pulls faster on the straights and mid corner acceleration gives the rider an instant high. The gearshifts are super slick although i would have like the footpegs to be slightly more rear set and higher.
The sculpted tank is designed keeping it mind to make it extremely easy for the rider to lock himself, thereby helping me be confident while shifting my weight in the corners.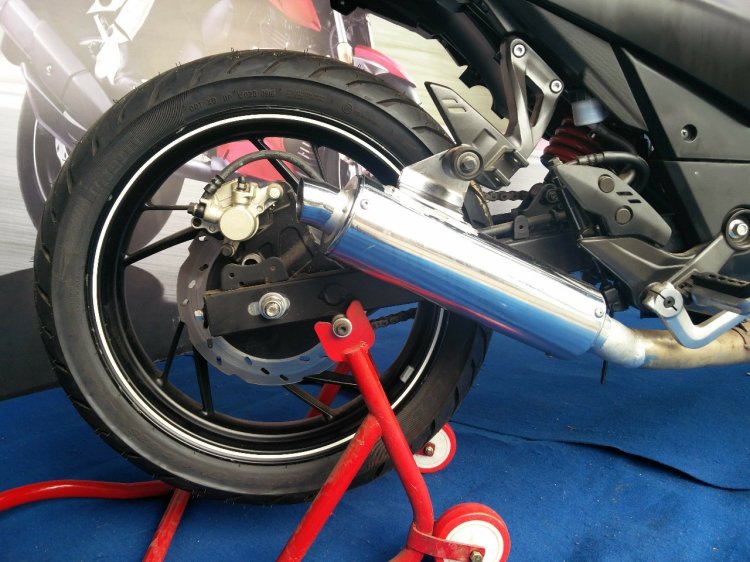 Day 2 began with an early start and post a small breakfast it was time to hit the track again for a small, 4 lap qualifying session. The blue Apache with the number 5 stickered on it was mine arsenal to blaze through the track. Lap 1 and 2 went slow and just as it was lap 3, which was beginning to be my best yet, it started to drizzle. The Pirellis though never lost grip.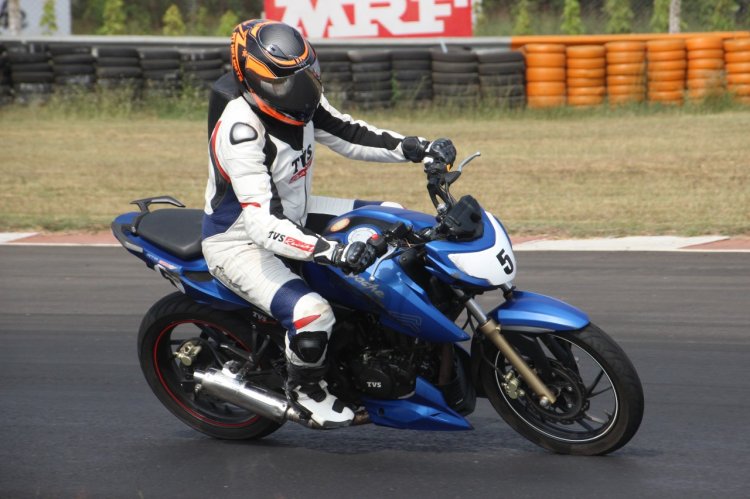 The race was another story altogether. What I learned from my practice and qualifying, never held a light during the race. All the newbies, me included, were riding all over the place. While I missed C10 regularly, the guy in front of me missed C4 on many occasion, giving me fright of a lifetime. But putting aside the shortcomings, I am taking a lot of lessons for myself and a new respect to racers who do all this day in and day out and make it all look so easy.