Paris Motor Show 2012 will see the launch of an eco-friendly variant of the Mercedes B Class powered by a CNG. Expected as the B 200 Natural Gas Drive, the is the first B Class model to get the energy space modular body concept.
The B Class Natural Drive has a double floor beneath the rear seat. This creates space for one large and two smaller natural gas containers holding up to 125 liters of natural gas.
As a result, you do not have to compromise on the luggage space in the boot – a big flaw in CNG powered cars.
It is powered by a 156 hp B 200 Natural Gas Drive motor that delivers 23 kmpl. When the car is brimmed with CNG, it has a range of about 482 km. Don't think of this as a slow coach, the CNG-powered B Class can accelerate from 0-100 kmph in 9.1 seconds and keeps pushing to a top speed of 200 kmph.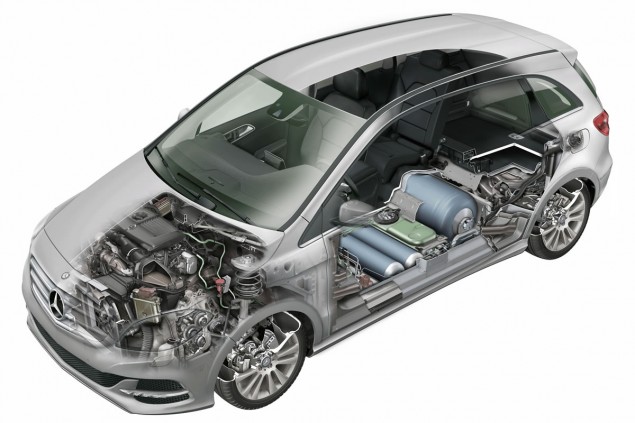 The B Class Natural drive is driven using a manual transmission or a 7G-DCT dual clutch, offering 16% less CO2 emissions and 50% lower fuel costs than any other petrol model, including the BlueEfficiency variants.
An interesting fact is that the B 200 Natural Gas Drive motor is Euro VI compliant, a benchmark that will come into play in 2014. Now, that's future technology at your doorstep. This CNG variant will feature on the Mercedes Benz B Class lineup by the end of this year.
Unfortunately, Mercedes India shows no interest to enter the CNG market anytime soon. The B Class destined for India will be the B180 variant, powered only by petrol, and launched as a CBU. The diesel powered B Class will head to Indian shores next year.
[Source: green.autoblog.com]