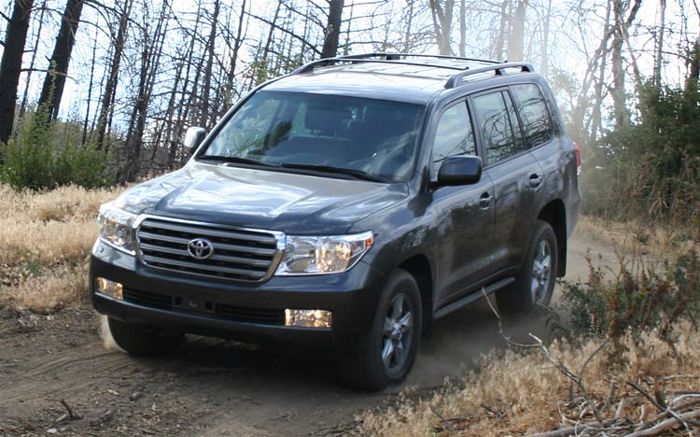 Japanese car manufacturer, Toyota has revealed its plans to bring the iconic Landcruiser (showcased earlier at AutoMall Delhi '09 this month) to the Indian Market. A Senior Toyota official said that they will be launching the Landcruiser soon this year.
Landcrusier viz a series of Four-wheel Drive (4WD) SUVs produced by Toyota, has a rich off-road heritage since early 1954. It is still recognized for its superior off road capabilities and has been instrumental in taking Toyota to a global stage.
In India, it will be brought through the CBU (Completely Built Unit) route, so obviously, it would burn a hole in the buyer's pocket. Estimated price is upwards of 40 Lakhs. If the response to this release is in favor of Toyota i.e if expected sales figures are met, the company may even start manufacturing the Landcruiser in India, like they have planned to manufacture the Camry at their Indian plant.
A gargatuan 4.5L Diesel engine that produces a tremendous of 300Bhp engine will station under the hood.In India, Prado is the only SUV sold under Toyota badging, and comes with a hefty price tag of 45lakhs(Ex. Showroom Delhi). Toyota has frequently updated its Prado in India to keep it fresh but has failed to see many customers mainly because of its high pricing.
Speculation has it that the Toyota Landcruiser and Toyota's mini SUV Fortuner will go on sale together soon, but only the right kind of price figures can see these SUVs through!
IAB Comment : A good move by Toyota to introduce its Landcrusier in Indian market. IAB is not sure if the Toyota badge will be able stand up against the likes of other giants namely Mercedes-Benz, BMW, Volkswagen, Porsche & Volvo, bearing in mind that they will have to fight in the same segment.
At times of fuel shortage and economic crisis, would any of you buy gas-guzzling SUVs these days?
2008 Toyota Landcruiser Gallery