At the Tokyo Motor Show next month, Toyota will introduce a near-production fuel cell car. Mass production of its fuel cell cars would begin in 2015, and would be sold in the U.S. and Europe for around $50,000.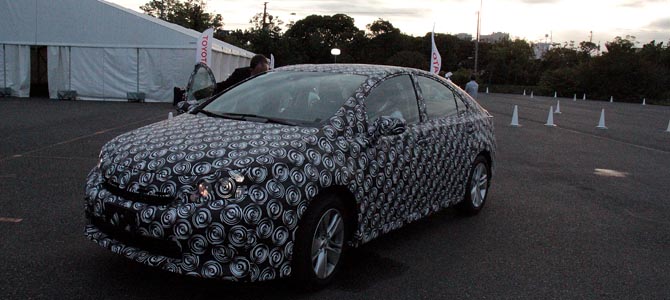 Toyota took a group of journalists to Japan this month and had them sample the powertrain that would go on to the production car.
Toyota wasn't ready to reveal the car's design or talk about the specifications. They used camouflaged Lexus HS 200 sedan bodies and journalists found the driveline quiet, smooth and a fun experience to drive thanks to the instant torque delivery of the electric motor.
Tanks in the car hold 5kg of compressed hydrogen which can be refilled in three minutes. For one fill-up, the car can travel 482km. The fuel cell stack is placed under the driver seat, which converts hydrogen into electricity. Combined, the fuel cell stack and the tanks weigh the same as a conventional engine.
Toyota did not comment on the car's suspension, the powertrains or even the power rating.
Hydrogen is the most abundant element in the universe, but only a few hydrogen filling stations exist on the planet. This is seen as the biggest problem that Toyota has to fix if these cars are to be sold in large volumes. However Toyota officials say this fuel type won't be their mainstay. A few ten-thousands of the car are estimated to be sold every year in a good season, the same number of Corollas and Camries sold on a weekly basis in the America maybe.
Officials predict that the price of a fuel cell vehicle would come down to about the same level as a plug-in hybrid car by 2020.
The perplexed group of journos who drove three laps of the car that they knew nothing about, on an empty parking lot after flying halfway around the planet, speculate that the model to be unveiled at the show next month may be of the same size but in a different shape.
[Source - DailyKanban.com]