The Toyota Etios twins are not the strongest of products in Toyota Brazil's portfolio.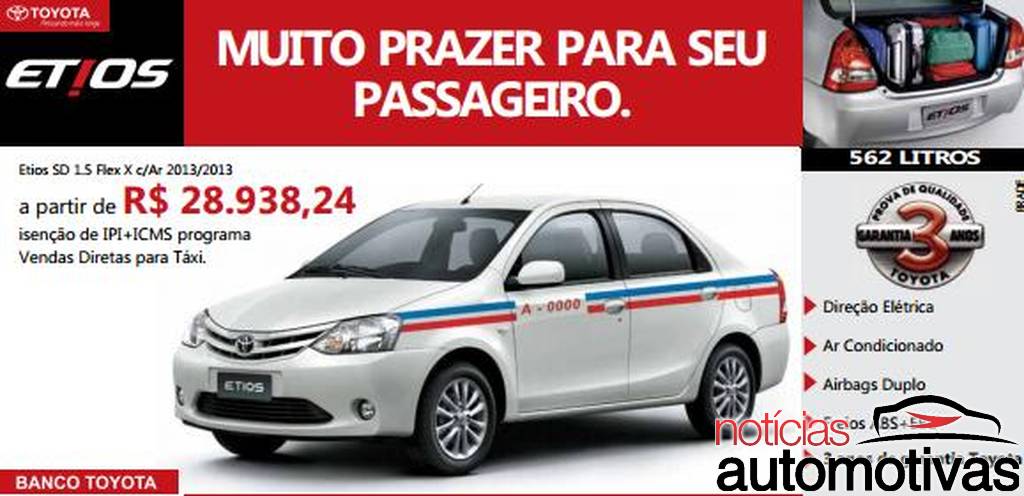 Both the sedan and the hatchback suffer from mediocre sales performance in the Latin American nation. It is not that there is a lack of demand for these type of vehicles, it is just that the twins simply can't keep pace with rivals who bring better aesthetics, equipment and value to the table.
While the Etios hatchback gets outsold by a huge difference by the Hyundai HB20 and Chevrolet Onix, the same treatment is expected to be mated out to the Etios sedan by newly launched rivals Hyundai HB20S and Chevrolet Prisma.
In the current form, the Etios sedan doesn't have the flair that its competitors have and so, targeting the taxi market to garner volume doesn't sound like a bad idea.
Noticiasautomotivas.com.br brings in the news that the taxi-specific 'Toyota Etios Sedan X' is made available in select Brazilian cities like Salvador.
The taxi spec car comes with power steering, air conditioner, dual airbags and ABS. The Etios Sedan X is priced at 28,938 Brazilian Reals (around Rs. 6.63 lakhs), which is very competitive considering that the private owners have to shell out 38,890 Brazilian Reals (around Rs. 10.77 lakhs) for a similarly spec'ed variant.
Even here in India, the Etios sedan is gaining popularity as a Taxi in Tier-1 cities thereby contributing significantly to the overall sales.
[Source: Noticiasautomotivas.com.br]