The sub 4 meter tax benefit has opened up a whole new segment in India. Manufacturers have added a chainsaw to their toolkits to make sure that they exploit this loophole whenever a chance is to be had. Hatchbacks, sedans, SUVs, MPVs - none of them have escaped the saw of the auto makers.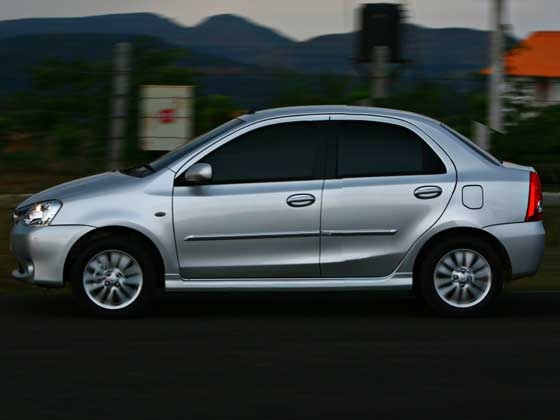 The first car to create this segment was indeed the Tata indigo CS. Tata Motors trimmed the Indigo's boot such that the length of the car fits under 4 meters and kaboom! A whole new car was born. Later, we saw the true segment creator Maruti Suzuki Swift Dzire which, being a 'M' product, filled up the roads and began exploring emerging markets.
It was not just sedans. We also saw smaller utility vehicles losing body length. The Mahindra Quanto and the Premier Rio are prime examples of ingenuity in the sub-4 meter segment. 2013 beckons the arrival of the Mahindra Verito CS, the Ford EcoSport and the Honda Brio Amaze.
This conveniently brings us to Toyota India and the struggle that it is going through to push the Etios brand in India. The Etios twins are losing their market share to competition. Rumors are abuzz in the market that Toyota is planning to facelift the Etios as early as next year.
In an interaction with TKM's Managing Director for Marketing, Mr. Sandeep Singh, Indian Autos Blog did not miss asking about the prospect of a smaller Etios sedan and here's the official's stand on this matter -
We are not going to go there. We believe that we cannot meet customer aspiration by giving sedan in sub-4 meter, you can launch hatchback but not sedan.
If Toyota really wants to push some numbers through the Etios, they have to consider variants on the Etios platform, and what appears the easiest to do is a compact sedan. Companies align their strategies with changing market conditions, and often times, decisions have to be reversed in the matter of months, either due to the change in government policies, or by a thundering launch from a competitor.
Do you believe the Etios CS has potential in India? Should Toyota consider this option?
[Rendering courtesy: Zigwheels.com]