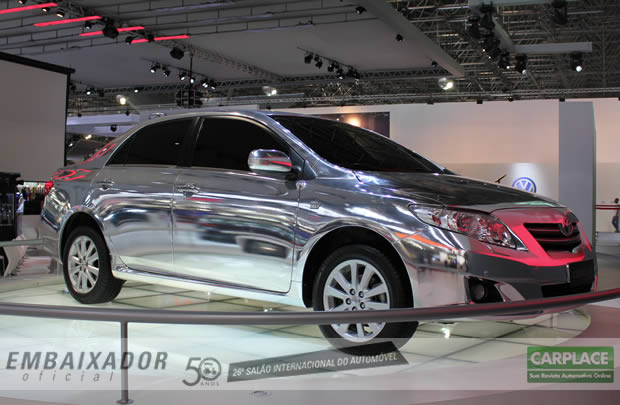 Toyota Motor Company showcased a rather unique one-off variant of its popular sedan- the Corolla at the Sao Paulo Motor Show. What was interesting about this variant is that it is entirely done up in chrome!
Some innovative brains at Toyota thought of this chrome finished Corolla and it sure was a star attraction of the Toyota stall. The Corolla is a segment leader in the Brazilian market and cars are driving out of showrooms at a quick pace and Toyota wanted to celebrate this occasion by showcasing this one-off model.
The configuration remains the same with the 2.0 liter engine sitting under the hood.
Now how about such an edition for Auto Expo in January 2012? Toyota has reasons to celebrate in India too! The Corolla Altis with the help of the diesel variant will ensure that it stays there. We also know how obsessed Indians are with chrome! Chrome is considered 'high end' and throw dollops of it in the car and the car becomes 'premium'!
A fully chrome finished car will attract many eyeballs at a crowded expo! Are you listening Toyota?
Toyota Corolla Chrome Image Gallery
Source - Car Place