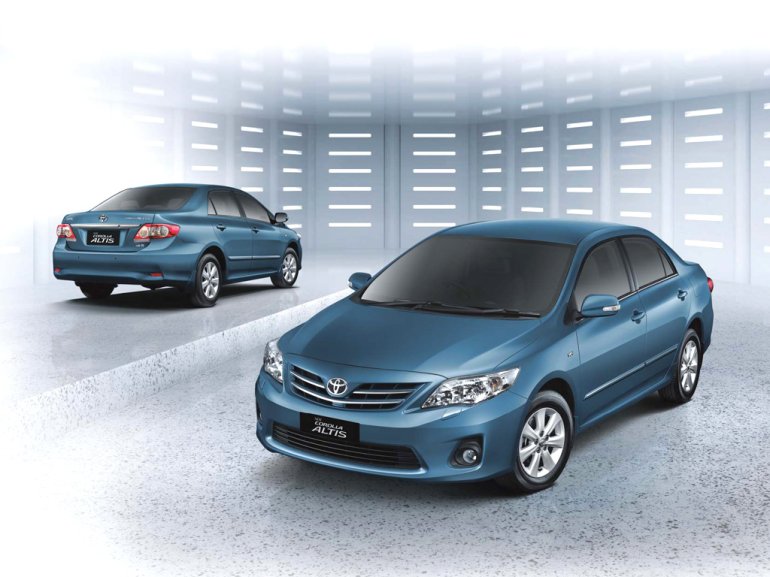 It seems like Toyota has silently launched the Corolla Altis facelift today. The facelift is applicable to petrol and diesel variants and is priced between Rs. 10.53 – 14.77 lakhs (ex-showroom, Delhi).  The petrol engine displaces 1,798cc producing 140 PS @ 6400 rpm and 173 Nm @ 4,000 rpm. The petrol engine is fitted with 16 valves and has dual VVTi (variable valve timing for inlet and exhaust valves).
The petrol engine is also mated to a new CVT with 7-speed Sequential Shiftmatic technology. The entry-level Altis comes with a 6-speed manual transmission. The technical specifications of the diesel variants have not changed. Equipment on board has been beefed up.
The new Altis gets smart entry, engine start stop button, 8-way power driver seat, cruise control, 6.1 touchscreen DVD audio system, electro-chromatic rear view mirror, HID lights, reverse sensors, headlight washers and disc brakes on all four wheels
Prices (ex-showroom, Delhi)
Toyota Corolla Altis Petrol
J- 10.53 lakh
G- 12.39 lakh
GL- 13.86 lakh
VL- 14.77 lakh
Toyota Corolla Altis Diesel
J- 11.46 lakh
G- 13.41 lakh
GL- 14.55 lakh
To program out any confusions,  learn everything about the new Altis at toyotabharat.com
Toyota Corolla Altis Image Gallery
Press Release
Toyota Introduces The Stunning New Corolla Altis
A blend of Genius performance and Gorgeous style
Ø New design exterior styling adds a touch of class
Ø Enhanced performance – New petrol engine and transmission gives enhanced output and torque and lowers emission level in the petrol variant
Ø Available in the price range of 10,53,300-14,77,400 rupees (petrol variant) and 11,46,500 - 14,55,000 rupees (diesel variant), ex-showroom Delhi
New Delhi, 16th June 2011 - Toyota Kirloskar Motor Pvt. Ltd. today announced the launch of the Stunning New Corolla Altis in India. The New Corolla Altis has been distinctively designed to give it a advanced and dynamic look. The petrol variant comes with an all new powerful 2ZR Dual VVT-I engine and super CVT-i with 7 speed sequential shiftmatic enhancing the output and torque. The new contemporary styling and enhanced performance makes the New Corolla Altis a perfect combination of dynamism and performance.
The petrol variant will come with an all new powerful engine - 2ZR Dual VVT-i Engine 1798 CC, producing an increased output of 140 PS @ 6400 rpm and an improved torque of 173 Nm @ 4000 rpm. The new engine is designed to provide excellent driving performance, best in class fuel economy and environmental performance with lower emission.
The petrol variant is available in both super CVT-i with 7 speed sequential shiftmatic or 6 speed manual transmission. The 4 speed AT in the petrol variant has now given way to the super CVT-i with 7 speed sequential shiftmatic. The 5 speed manual transmission (MT) has also been upgraded to a 6 speed MT. This will enable a smooth change in gears and a better control over the car with more gear options, excellent driveability, and class leading fuel economy. The enhanced low to mid speed range torque and high speed range output will provide smoother acceleration in high traffic and greater accelelration on highways.
The Diesel variant retains its 1ND D-4D Diesel Engine with Variable Nozzle Turbo & Intercooler with 6 speed manual transmission. It continues to provide, best in class fuel economy of 21.45 kmpl.
The diesel and petrol variants get advanced and dynamic exteriors and the latest in luxury features. The new advanced interior creates an advanced and refined atmosphere. The new plush leather perforated seats, darker grey upper interior colour and the dark wood finish adorns the interiors giving a richer feel. The New Corolla Altis is equipped with an array of the latest luxury features - push start/stop button, smart entry, new DVD touch screen audio with bluetooth, new design optitron meter with eco diving indicator, remote boot opener and reverse sensor.
The New Corolla Altis incorporates an elegant and sporty design in an advanced and dynamic form and embodies class above overall quality. With its sleek front headlamps, dynamic grille and stylish rear design, the New Corolla Altis exudes a bold, strong and commanding presence. The diesel variant gets new design grill with bar and mesh. This new attention grabbing presence brings joy and pride of ownership.
The New Corolla Altis is available in array of 7 exciting colours.
Present at the launch Mr. Michihiko Sato, Chief Engineer - Corolla Altis , Toyota Motor Corporation said "Following half a century of continuous evolution, responding to the needs of the times, the New Corolla Altis design and driving performance has been further refined to continue being a leader in its class. The contemporary styling and intelligent performance takes the experience of owning a Corolla Altis to an all new high. The New Corolla Altis represents the best of global motoring experience and also further strengthens Toyota's commitment to the Indian market"
Mr. Hiroshi Nakagawa, Managing Director, Toyota Kirloskar Motor (TKM) said, "The Toyota Corolla Altis has constantly been a leader in its class. We are delighted to now introduce the New Corolla Altis that will offer an exclusive blend of contemporary styling, luxurious features and intelligent performance, in response to the latest customer demands of the times.We hope to take customer delight to an all new level with the Stunning New Corolla Altis."
Mr. Sandeep Singh, Deputy Managing Director, Marketing, TKM, added, "The New Corolla Altis is aimed at providing newness to the product and offers the latest in technology and design.The Stunning New Corolla Altis is Genius inside and Gorgeous outside. With an all new engine and transmission and contemporary styling the New Corolla Altis is a perfect blend of genius performance and gorgeous style. The New Corolla Altis is intended to appeal to the customer who seeks the ultimate combination of style, power and driving comfort. The New Corolla Altis will be available in the price range of 10,53,300-14,77,400 rupees (petrol variant) and 11,46,500 - 14,55,000 rupees (diesel variant), ex-showroom Delhi and will be available at all Toyota dealerships from today."
The New Features are as follows:
Exterior features:
The New Corolla Altis's gorgeous look is the perfect amalgamation of elegance and sportiness. Some of the advanced features include:
· Distinctive front grille for a dynamic new look (also available in diesel)
· Pronounced rear bumper, sleek rear combination LED tail lamps and rear chrome garnish for a sporty appearance
· Front angular headlamps for a sharp and refined look
Luxury features:
* Push Start/Stop button
* Smart Entry
* Thoughtfully designed backlit Optitron meter with eco driving indicator (also available in diesel)
* 6.1" DVD Touchscreen Audio with bluetooth (also available in diesel)
* Reverse sensor
* Remote boot opener
* Darker wood finish (also available in diesel)
* Perforated leather seats (also available in diesel)
* Rear arm rest with wood finish and lid for cup holder (also available in diesel)
Performance:
* The genius new Dual VVT- i petrol engine, provides the perfect blend of power, fuel efficiency and low emissions
* New generation super CVT- i with 7 speed sequential shiftmatic or the 6-speed manual transmission