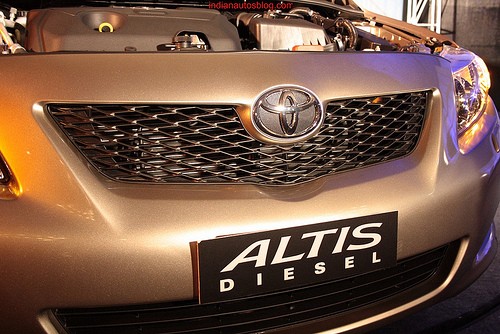 After seven long years of waiting, Toyota finally took the call on the Corolla diesel. The Altis, technically speaking is the second gen Corolla for India buyers, who love the comfort and refinement that the Altis generously offers.
Initial impression
The Corolla Altis has beaten arch rival Honda Civic in India, the latter doesn't have the diesel engine which every one of its competitor offers now. But the real low, for us, is the engine itself. A 1.4-liter diesel engine for a car like the Corolla which competes with the best in the world, is disappointing. We've not driven the vehicle so we can't really pass a judgment. But Toyota is a global leader in passenger vehicles. Vehicles like the Prius, iQ and even Fortuner have changed the way the game is played. With such revelations as products, we expected Toyota to give the Corolla a bigger and more powerful diesel engine.
True, Toyota feels that the diesel customer is looking for economy and if its power, pickup and refinement that he's looking for, then he might go for the petrol model. But what about a buyer who wants some of that coupled with fuel economy?
Today in India, hatchbacks like Ford Figo and Indica come with a 1.4-liter diesel engine. A car like the Corolla which is many segments higher deserves better, we strongly feel.
I feel that the taxi segment will love this Corolla more than anyone else. I don't have any statistics to back this statement, but many Corolla customers prefer the comfort of the back seat. For them, the mill or the transmission that's getting them from A to B is almost irrelevant.
This Toyota is for the aspiring Corolla buyer. It isn't a Cruze or Laura alternative, then.
Highlights
Toyota claims that the Altis's diesel engine has a flat torque curve which will be a joy to drive in the city. If he's driving to his farmhouse, then he has the 6-speed manual transmission and 205Nm of torque to make his journey a very smooth one. There are no major changes on the design front. A mesh grille and a D-4D badge are differentiators. Toyota said customers can expect 18-19kpl in city conditions.
The Altis diesel has already reached doorsteps of dealerships and between 22nd and 31st of this month, Toyota will conduct regional launches. Customers will have to pay 50,000 rupees as advance if they are interested in buying one.
The Altis's segment makes up for only 2% of the market share in India. Toyota aims to sell 800 cars a month bringing the total tally of Corollas sold to 1,300 units a month.
Prices (ex-showroom Delhi)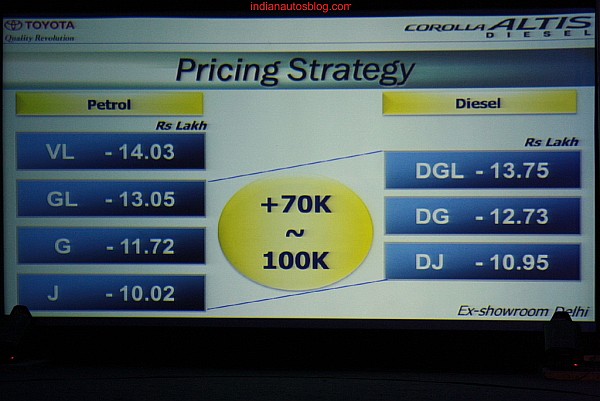 Target Customer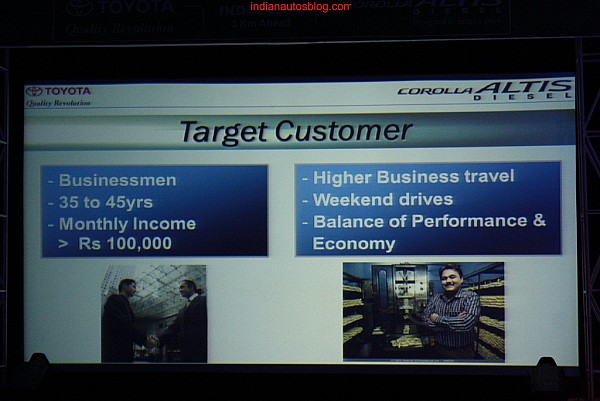 Press Release
Toyota Launches the Corolla Altis Diesel in India
Delhi, July 21, 2010

* World class D-4D Common Rail Diesel technology
* First-in-segment, newly developed 6-Speed Manual Transmission
* Best-in-class mileage of 21.43kpl as certified by an accredited Testing Agency
* Flat torque and low NVH
* Competitively priced between 10,95,000 lakhs and 13,75,000 lakhs (Ex-S/R, Delhi)

Delhi, July 21, 2010 :- Toyota Kirloskar Motor Pvt. Ltd. (TKM) today announced the launch of the Corolla Altis Diesel in India. The latest offering from TKM has been developed keeping in mind the distinctive requirements of the Indian customer with the basic concept of 'optimum balance of performance and economy'. India is the first Asian country to get the BSIV Corolla Altis Diesel.

The Corolla Altis is available with a newly developed 1.4L in-line 4-cylinder D-4D Common Rail Diesel Engine that generates a peak power of 88.4 PS and a peak torque of 205 Nm. Toyota's D-4D technology also used in the Innova, Fortuner, Prado and Land Cruiser 200 has earned a reputation the world-over for its high quality, durability and reliability.

The D-4D engine in the Corolla Altis is complemented by a 6-Speed Manual Transmission - a 'first-in-segment' offering ? to provide flat torque that would mean lesser gear shifting, leading to better fuel efficiency. The car has registered a best-in-class mileage of 21.43 km/l as certified by a test agency.

The Corolla Altis Diesel gets a differentiating sporty mesh grille, better aerodynamic characteristics, and the lowest NVH and best ground clearance in its segment. The car is available in seven colours - Silver Mica Metallic, Champagne Mica Metallic, Dark Red Mica Metallic, White Pearl Mica, Light Blue Mica Metallic, Super White and Black Mica.

The Corolla Altis Diesel comes in three manual transmission grades D-4D J, D-4D G and D-4D GL with competitive price tags between 10, 95, 000 and 13, 75, 000, ex-showroom Delhi. Bookings open today.

Speaking at the launch, Mr. Nakagawa (MD, TKM) said, "The Corolla DNA that has been handed down for 40 years is now in its 10th Generation with over 35 million happy customers worldwide. The car made its debut in India in 2003, and now has more than 60,000 satisfied owners in the country. As part of our long-term commitment to bring the best of Toyota's technology to India, we are very proud to introduce the Corolla Altis Diesel. The Corolla Altis Diesel has Toyota's proven D-4D technology, and I am happy to say will have the best fuel efficiency in its segment. "

Mr. Sandeep Singh (Deputy Managing Director-Marketing, TKM) said, "Apart from the spacious interiors and luxury features of the Corolla Altis, the diesel variant has the best fuel efficiency, lowest NVH and the best ground clearance in its segment. Our target customers are individuals who are business professionals, in the 35 to 45 age group looking for a perfect balance of performance and economy. The launch of the Corolla Altis Diesel has enhanced Toyota's line-up in India, and we are looking at consolidating our leadership position in the C-segment with a sales target of 10,500 units for the Corolla Altis in 2010."
Toyota Corolla Altis diesel Image Slideshow
if you're not able to see the slideshow above, visit the Toyota Corolla Altis Diesel gallery directly