GM India is promoting its recently facelifted Chevrolet Spark in all parts of the country.
[can't see the video above? Head over to Youtube]
One of the key USP of the Chevy Spark is the refinement and the fuel economy of the 1.0L petrol motor.
While most competitors have a gruff 3-cylinder engine, the Spark has a silky smooth 4-cylinder unit. Chevy India has also launched a LPG version of this motor.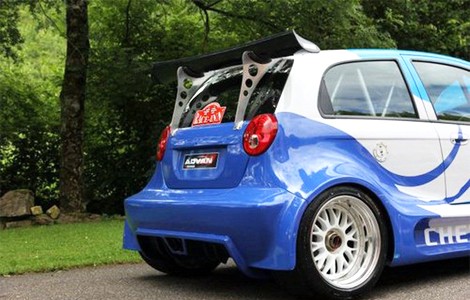 However, the Spark that we have for you here is a bit different to the showroom model. It does not have an ultra efficient 1.0L petrol engine under the bonnet or the 1.2L Smartech from the Beat for that matter.
Instead, it has a MASSIVE 7.0-liter Corvette V8 engine that whips out 550 hp. Thanks to the added oomph, this Spark can accelerate from zero to 100 km/h in just 3.7 seconds and tops out at 260 km/h.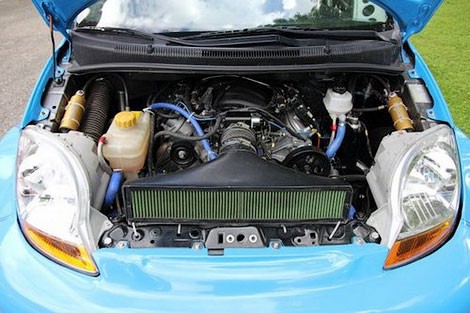 The car is built by Fourdin Auto Sport (FAS) and features a menacing body kit with huge 18-inch wheels wrapped in slick tires. Several parts of the Chevy Corvette have been borrowed such as its steering and brake systems as the stock parts cannot stand the forces of a 7L engine accelerating to supersonic speeds.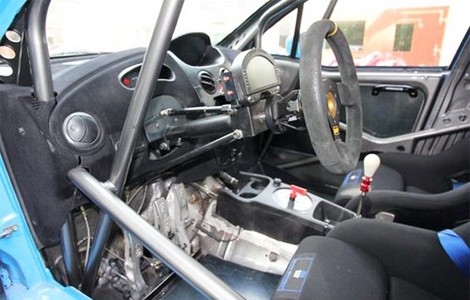 Apart from the fact that this has a V8 under the bonnet, it is also probably the world's only three-door Spark and it can be yours for a price of 43,000 Euros.