Slated for launch in India in the first week of January.
The Tata Zica, previously referred to as the Tata Kite hatchback (codename), has been unveiled to the world and is slated for launch in India in the first week of January. Here is a brief technical specification comparison of the sub-Bolt hatchback against its chief competitors. The petrol and diesel versions of the Tata Zica hatchback are the most powerful models in their respective comparison, producing 85 PS and 70 PS respectively. It is also the torquiest, pushing out 114 Nm and 140 Nm, except for the Chevrolet Beat diesel which has only a marginally higher peak torque rating of 142.5 Nm. Both the versions of the Zica are offered with a five-speed manual gearbox, while the highly anticipated AMT version would be launched at a later stage.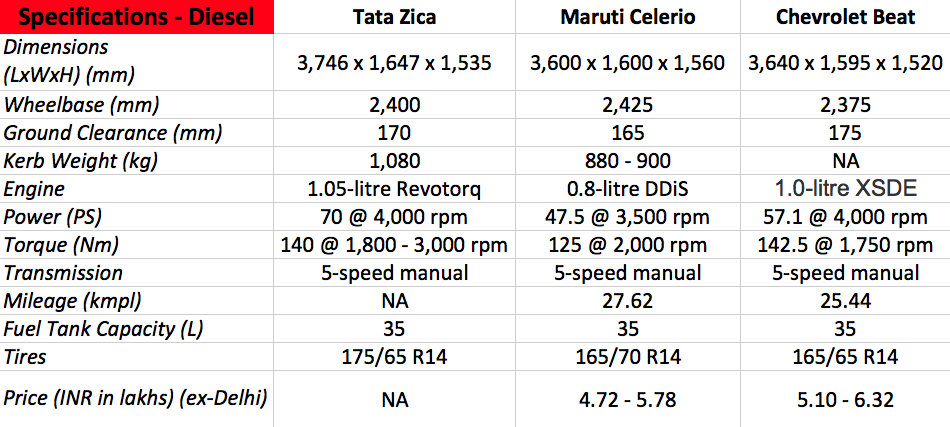 The mileage of the Zica is yet to be revealed. Among other models, the Maruti Celerio claims the highest mileage in both petrol and diesel variants. The petrol variant is said to return 23.1 km/l and the diesel trim is certified to deliver 27.62 km/l.
Also Read: Renault Kwid vs Maruti Alto 800 vs Hyundai Eon – Comparo
The Zica has a 25 mm smaller wheelbase than the Maruti Celerio, but rides on the largest tyres in the segment - 175/65 R14. It has a good clearance of 170 mm, although Beat bests it by just 5 mm.