Part of our duty as automobile journalists is to recommend people their next car. Everyday we get plenty of queries and interest for automatic variants through our comments box and contact form.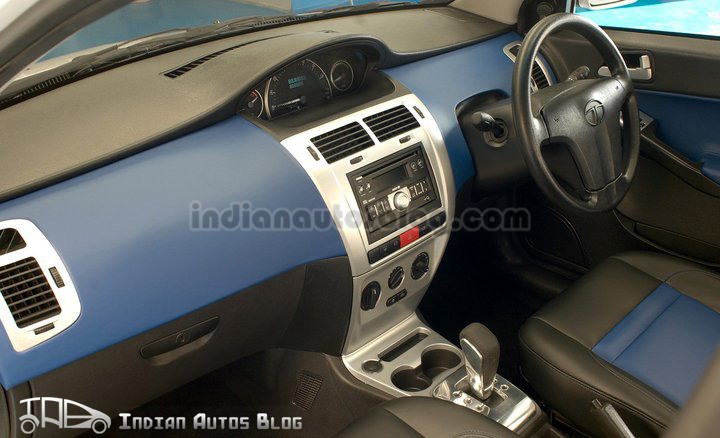 [This is not the Vista AT, its a mirror image of the Vista EV, the drive selector module looks application-ready on the AT variant!]
This explains India's slow shift towards torque convertors, CVTs and dual-clutch gearboxes.
So is India finally catching up with the global trend of preferring automatics over the traditional manuals?
Buying options are numerous if you are in the market for a petrol AT. Right from hatchbacks to big SUVs, you get automatics throughout the range. But ask just for a diesel automatic car, and the cheapest option is the Hyundai Verna that's well over 10 lakh rupees.
And if you are in the market for a diesel automatic hatchback, well, there aren't any (if you don't count the Laura and the Superb as hatchbacks, as they technically are). So you may have the purchasing power, but you can't be catered to.
That maybe about to change!
According to our sources, Tata Motors wants to be India's first automaker to bring out an affordable diesel automatic car. The company is burning the midnight oil with diesel AT technology, with the UV's given first preference. When we spoke to Mr. Ashesh Dhar in Chennai earlier this month, he said the Storme AT is a definite possibility.
Tata Motors is working closely with ZF transmissions and Jaguar to develop an automatic variant of the Tata Aria. We saw the initial outcome at the 2012 New Delhi Auto Expo in the form of the Aria AT Concept. It had a 6-speed AT featuring Tiptronic gear selection. It came with three driving options - Sport, Economy and Cruise.
Its a long shot for this 6-speed AT box transcending into smaller vehicles such as the Vista and the Manza. If it has to, then Tata Motors need to localize the box fully or the 'affordability' factor gets robbed completely.
Considering Tata Motors is very keen on bringing a diesel automatic hatchback at an affordable price point (our little birdie tells us), we think that the automaker will develop a smaller 5-speed box exclusively for B segment models such as the Vista and Manza.
We hope Tata Motors opts to develop a dual clutch box and not a torque converter or CVT because of the numerous benefits that a double clutch setup offers. Ford India has proven that double clutch boxes need not be an exclusive D segment feature. A cheaper and reliable double clutch is a reality. Now, Tata Motors just needs to bring the technology on diesel hatchbacks and get the first mover benefits.