Remember the Tata Pixel Concept? No, not the Megapixel, its predecessor? Recall the bean shaped car from the 2011 Geneva Motor Show?
[can't see the video above? Head over to Youtube]
To recap, the Tata Pixel is a concept car for European cities. It is based on the Nano, and measures just under three meters long, but has seats for four adult occupants.
If the Pixel is produced, not only would it be the first proper four seater for such a small footprint, it will also have the smallest turning radius for a passenger vehicle.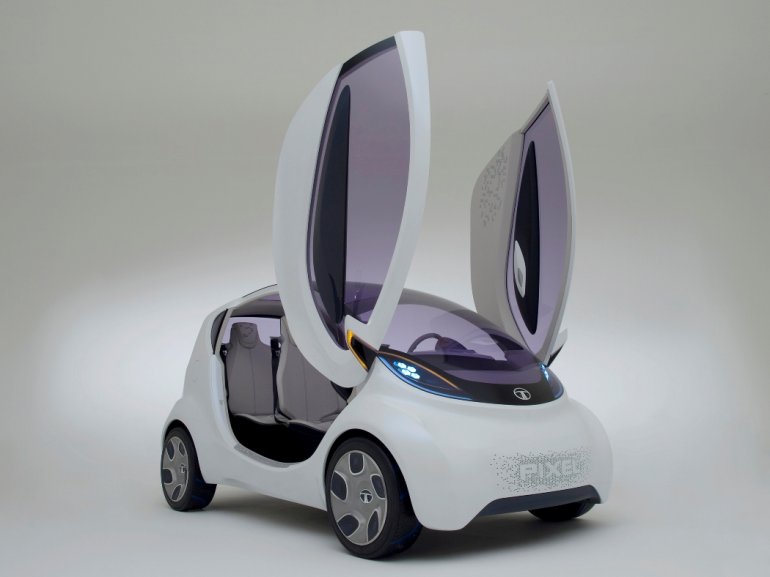 That's because the Pixel does not use a conventional steering system. It crabs into parking spots instead of steering into it. It can move sideward into a parking space with the help of a toroidal traction-drive Infinitely Variable Transmission (IVT) which spins the each wheel on the axle in different directions giving it an unbelievable turning circle radius of 2.6m.
Another design feature that show goers took note of was the 'scissor' doors that rotate upwards for effortless passenger ingress and egress.
Fast forward 18 months and Tata's UK-based engineering team headed by Nick Fell have improved the technology and patented it. Auto Express got a world exclusive first drive and they've published all details on their website.
The "zero turn" technology will work below a certain speed. As the video explains, the car hinges on the center of the rear axle and the car moon-walks into a tight parking space. To lock the inner wheels, Tata Motors could use an extra functional ABS system instead of the costly Torotrak system to keep the price of the city car from reaching for the stars.
Tata will have road-going models with this technology ready by the end of this year. The innovative steering system will go into the production version of the Megapixel concept, an improved avatar of the Pixel concept that was brought to the 2012 Geneva Motor Show, Auto Express concludes.
[Source - AutoExpress.co.uk]