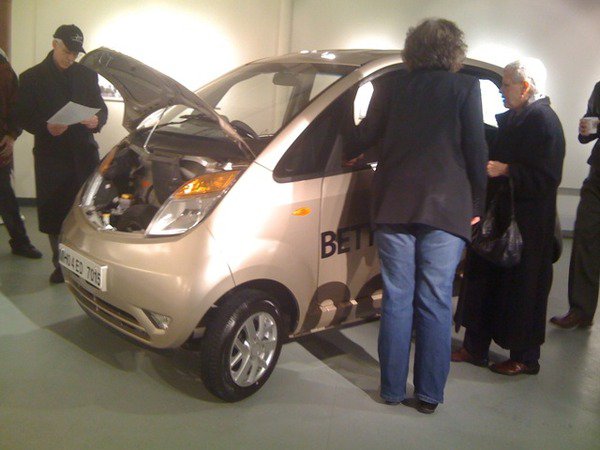 Students and teachers at Judson Univ check out the Tata Nano inside-out
The world's cheapest car, Tata Nano, made a two-hour stop at Judson University, Elgin, Chicago yesterday on its way to the ongoing Detroit Motor Show in North America.
The Champagne Gold Nano LX with licence plate number MH04 ED 7015, borrowed from Tata Technologies' Centre for Advanced Engineering and Design in Pune was showcased to roughly 200 people who are associated to the University, community and the US government.
Almost each of them after getting a taste of the 2-cylinder 624cc city car asked when it would be available in the US. Many of them questioned accompanying officials on the safety and emission aspects of the vehicle.
The crowd was surprised by the interior room and some of them were heard saying airbags would make it to the US-spec version.
As Ratan Tata, Group Chairman holds a degree in architecture, the Nano was showcased in the architecture block of the university.
The Nano now travels to its final destination - Cobo Center in Detroit where it will remain on display till the 24th