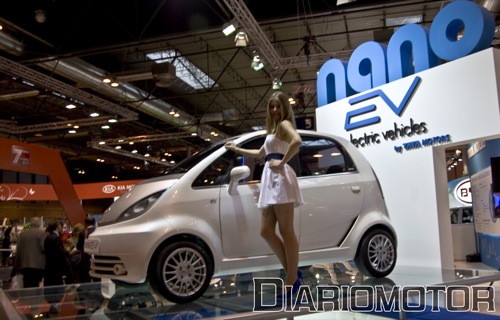 Salon de Madrid was held from May 20-23 and unlike Geneva or Frankfurt, it did not get under the global spotlight. Perhaps in next decade, the show will attract more investment, public interest and car manufacturers as Spain's auto market expands.
Arguably, the most significant display at the biannual function was the Tata Nano EV. This car premiered at the Geneva Motor Show in March this year and it is likely to clinch the title of the cheapest electric car in the world when it goes into production in the next few years.
With a range of 160 km, a top speed of 100kph and an acceleration of 0-60 kmph in under 10 seconds, the Nano EV is not a golf cart with doors.
Tata will first launch the Europa in some European markets by 2012, and along with it, cars like the Indica Vista EV, Indigo Manza will also be sold.
Thanks to our good friend Oscar and his team mates at Diario Motor, we're able to bring you pictures of the Nano EV parked in the Tata stall of the Madrid Motor Show.
Tata Nano EV at Madrid Motor Show
Source - Diario Motor