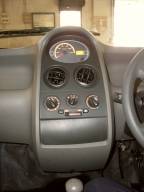 The Tata Nano, costed over Rs 2,000 crore to the company, is likely to be launched in Nigeria within the next year and a half.
Currency conversion suggests that the NGN 360 price tag for the Nigerian Nano, is same as the India price tag of Rs. 1.23 lakh, which begs the question, Is the Nano going to be exported or be built there?
The car would be available for about NGN 360 for the base model, same as the price in the Indian markets. The car carries a price tag of Rs 1.23 lakh to Rs 1.72 lakh (ex-showroom) in the Indian capital for three variants.
Sudeep Ray, senior official with Tata Africa Nigeria -
"Tata Motors will make the Nano available in Nigeria in the next one year to one and a half years."
"The launching of the Nano was branded as everyman behind the wheel and will benefit Nigerians because public transport systems like metro are not available here."
"The car (Nano) will cost NGN 357,480 (about Rs 1.16 lakh) in Nigeria, which is much less than the price of most second hand saloon cars sold here," Ray said. The cost of an used car usually starts at NGN 5,00,000 in the country.
A Tata Motors spokesperson from India -
"The company has said that the Tata Nano can be marketed in other countries, but timelines, modes and countries are yet to be finalised."
Source - BS Motoring