The Tata Nano may not be as powerful as a Chris Gayle or as fast as an Usain Bolt, but it certainly has enough space to accommodate both of them and their sporting equipment!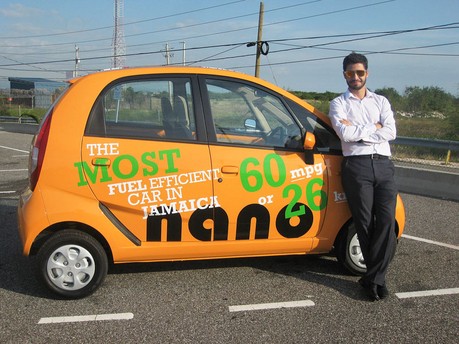 Tata has big plans to take the Tata Nano to places in order to realize its full potential.
The Nano's domestic sales figure is witnessing a slow and steady increase but it is still a long way from the target. Hence Tata Motors is exploring various export markets to bring the capacity utilization to profitable levels.
India's largest automaker is exploring export markets like ASEAN countries, Bangladesh and some African nations. There are reports that Tata Motors is looking to set up a factory in Mexico to assemble its range of passenger cars including the Nano.
The Nano's latest stop is at Jamaica where it will be imported and distributed by Metis Motors. The deliveries of the car will start from December 15 and the importer will start building up the stock from February 2013. The car will be available only in the top-end variant.
Two Nanos are already doing rounds in Jamaica on a promotional mission. The cars have decals which say how much one need to spend on fuel to take the Nano from Kingston to Montego Bay and Kingston to Ocho Rios. The stickers also say that the Nano has a fuel economy of 60 mpg or 26 kmpl, which is 1 kmpl more than ARAI Indian driving cycle mileage.
Though Jamaicans are reportedly being skeptical about the car, it's said to be invoking interest among organizations with large fleets. Mr. Joe Ferreira, director of new markets at Metis Motors said: "A lot of people are skeptical, will always love bigger and better. I hear people complain it does not have a nose."
[Source: Jamaica-gleaner.com]