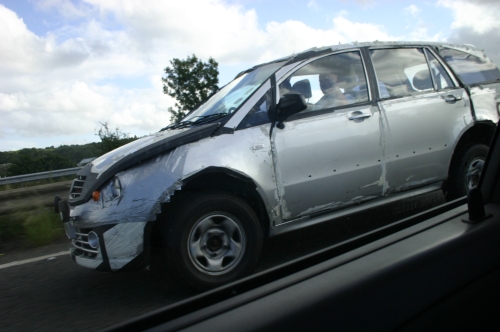 Business Standard reports Tata Motors will roll out the Xylo/Innova slayer Indicruz next year.Equipped with Tata's CRDI engines, the Indicruz has been styled by the same group which was responsible for cars like the Indica Vista and Sumo Grande.
The Indicruz, comprehensively evaluated at the Tata Motors European Technical Centre in U.K, the group which has closely worked with the ERC engineers here in Pune to fine tune the car.
Rumors of possible Land Rover powertrain application on the Indicruz has not been turned down by Tata thus far. Such a variant would be more suited for the European markets.
Tata's UV space has been shrinking in India. Statistics indicate times have not been good for its Utility vehicles. The Indicruz crossover could be the best option for Tata to end this disappointing streak.
Tata's DICOR engine on the Indicruz will comply with Euro 4 norms. In the future, Tata plans to export the Indicruz possibly to markets like South Africa and Europe where the Indica and its derivatives are sold. The engines for the export market will be tuned to meet emission norms in those countries.
Source - Business Standard