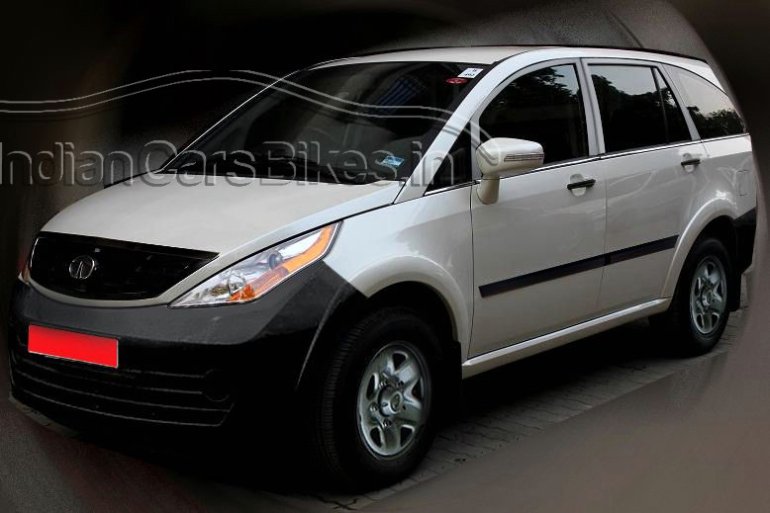 According to our friends at Indiancarsbikes, Tata Motors, a company that makes cars with a huge VFM factor, is developing a low-cost Aria crossover variant. The Tata Aria is a major headache for the company as the car's sales are appalling for a launch that took place in late 2010.
The Tata Aria sells as a flagship model and failed to attract customers in any urban city. The pricing, marketing or the concept itself could have been the culprit for what is popularly termed as Tata's XUV500.
In the Aria project Tata leapfrogged to an unseen level of progress in departments of quality, features, technology and driving experience. However the efforts to make it work have proved futile.
Tata Motors is resorting to its final option - the cab market - to improve numbers, if an IndianCarsBikes report is to go by.
Picturing a Cabbie's Aria
Picturing a cabbie's Aria is like clapping your hands. Paint the Tata Aria in plain white, remove fog lamps, strip the body coloured bumpers and replace them with black plastic units, down-size the tires and get rid of the alloys, and install plastic door handles. If you spot chrome on the body, pull it out.
From the interior standpoint, remove leather seats and replace them with plastic-covered units. Black out the navigation or infotainment LCD display. Provide a low-cost CD/MP3 player or offer it as an accessory. Remove all the shade holders, the leather wrap on the steering, replace the beige trims with black low-cost plastic, uninstall the airbags and clear out everything that you think is an unnecessary xtra.
The engine is likely to be the same 2.2-liter common rail, turbo-intercooled engine which produces 140 hp and 320 Nm of torque. It is mated to a five speed manual gearbox.
If the car can be badged as a Tata Aria Pure LX, guess the operation is complete.
[Source: Indiancarsbikes.in]