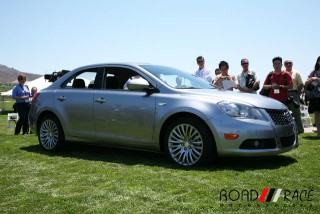 If we were Suzuki, the eye-catching/mind-boggling Kizashi would have been here. In fact by now, Honda would have scampered back to the drawing board to make a new Accord and Toyota would have likely slashed Camry prices. Segment leader Skoda Superb would have been discontinued, and the company would have declared competing in this segment was not viable anymore.
As we are not Suzuki, sadly, the Kizashi isn't here. It won't be here anytime soon we're told. Suzuki officials have confirmed that they will take the final call on the Kizashi's Indian inning in the next two years.
They say there would be no point in launching it here if the demands are not satisfactory, a lesson they learned by launching models like the Vitara, Versa and the Baleno.
The 2.4-liter engined Kizashi is the Japanese car manufacturer's first time model in the segments ruled by Honda, Toyota, Mercedes and BMW. The Kizashi uses the old and effective formula - every other feature, at a price less than anything else - a similar formula adopted by the successful Hyundai in conquering European and other far away lands.
Suzuki is known for its powerful spine chilling Gixxers and Hayabusas. In Europe, you would relate Suzuki to the Alto or the fun Swift. In India, you would relate them to the 800 and Omni, two cars that bolted wheels to India. When such a car maker opts in to play in the segment where there are no prisoners, you start to question to ideology behind the move. Sure, you could give a dozen airbags and a 1000 kilograms of electronics, but would the Americans, who love their Mercs and Beemers, want to trip in Suzuki luxury sedan?