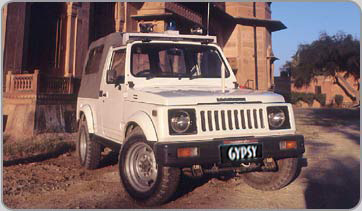 It is the 40th anniversary for Suzuki Jimny (Gypsy) which was launched as a compact 4x4. It was called Jimny Sierra.
Back in 1970, the Jimny was probably the most affordable 4x4 vehicle. Suzuki spent two years developing this vehicle which had a 360cc two-stroke engine and a ladder frame chassis.
Leaf springs were the obvious choice. The air-cooled engine developed just 24hp and 36Nm, a few light years away from what off-roaders can manage today.
188 countries have seen, driven and off-roaded in the Jimny. In India, the second generation Gypsy, which internationally debuted in 1981, was introduced in the 1985 and immediately went on find thousands of fans. The Gypsy received a bouquet of upgrades from 1985-2000, but it was not enough to convince the modern day buyer, who isn't willing to spend his money on a 20 year old vehicle. What Maruti had to do is bring in the latest generation vehicle rather than continuously investing on the existing model.
The Gypsy is a very capable off-roader and still is used by the border security forces.
Suzuki Australia General Manager Tony Devers -
With 40 years of history and legions of dedicated fans, the Jimny backs up its claim as the original compact SUV with substance rather than semantics
The next generation Jimny should come out within a year's time and its crucial for Maruti to devise a plan for its Indian entry. Mini SUVs are going to be popular, and that assumption is backed by Mahindra's mini SUV scheduled for the next decade, and Ford's possible entry using the Fiesta platform. It won't be long before Tata and a rush of other manufacturers join this race.