Model with Safety Pack awarded 5 stars.
Euro NCAP has put the Suzuki Ignis compact crossover through its usual round of crash tests, and has awarded 3 stars for the standard model. Note that the model tested was the Euro-spec Ignis, which featured front and side airbags.
[Youtube link]
The Ignis fared relatively well in front full width and lateral impact tests with adult-sized dummies, with testers reporting that the passenger compartment of the Ignis remained stable. However, in the Frontal Offset Deformable Barrier test, readings from the driver dummy indicated that chest protection is weak.
As for children at the rear seat, chest decelerations of the 6 year dummy's chest seated on a child seat showed poor protection, exceeding recommended safe limits. In lateral impact tests, the protection levels were rated as 'good'.
The Euro-spec Ignis also comes with a Safety Pack, which comes with features like Dual Camera Brake Support, Lane Departure Warning, and speed limiter. It was awarded 5 stars,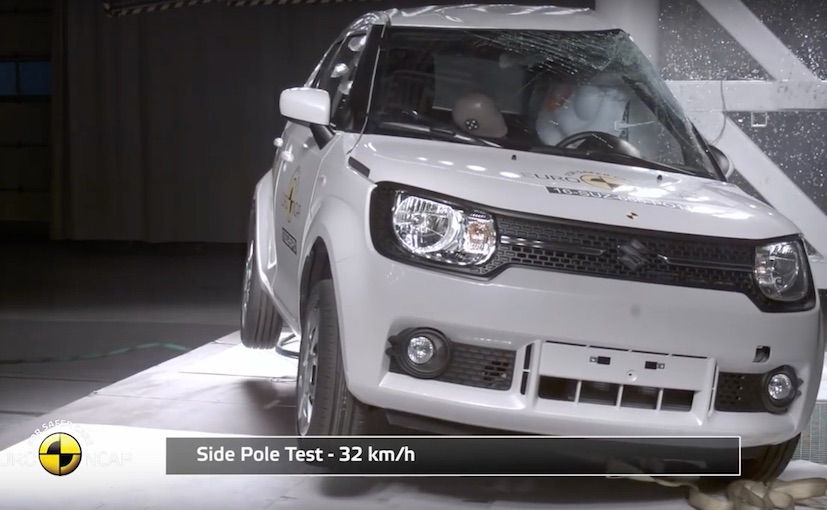 The model tested weighed 820 kg, and powered by a 1.2-liter DUALJET (K12C) petrol engine with SHVS (Smart Hybrid Vehicle by Suzuki) mild hybrid system, while a 5-speed MT and AMT (AGS) are confirmed to be the gearbox options.
The four-cylinder engine produces 66 kW (90 CV/88.47 hp) at 6,000 rpm and 120 Nm of torque at 4,400 rpm. There's a 12-volt lithium-ion battery to run the electric motor which develops 2.3 kW (3CV/3.08 hp) and 50 Nm of torque. Power is sent to the wheels via a 5-speed manual transmission and distributed between them via the ALLGRIP four-wheel drive system.
Suzuki Ignis with safety pack
Suzuki Ignis without safety pack