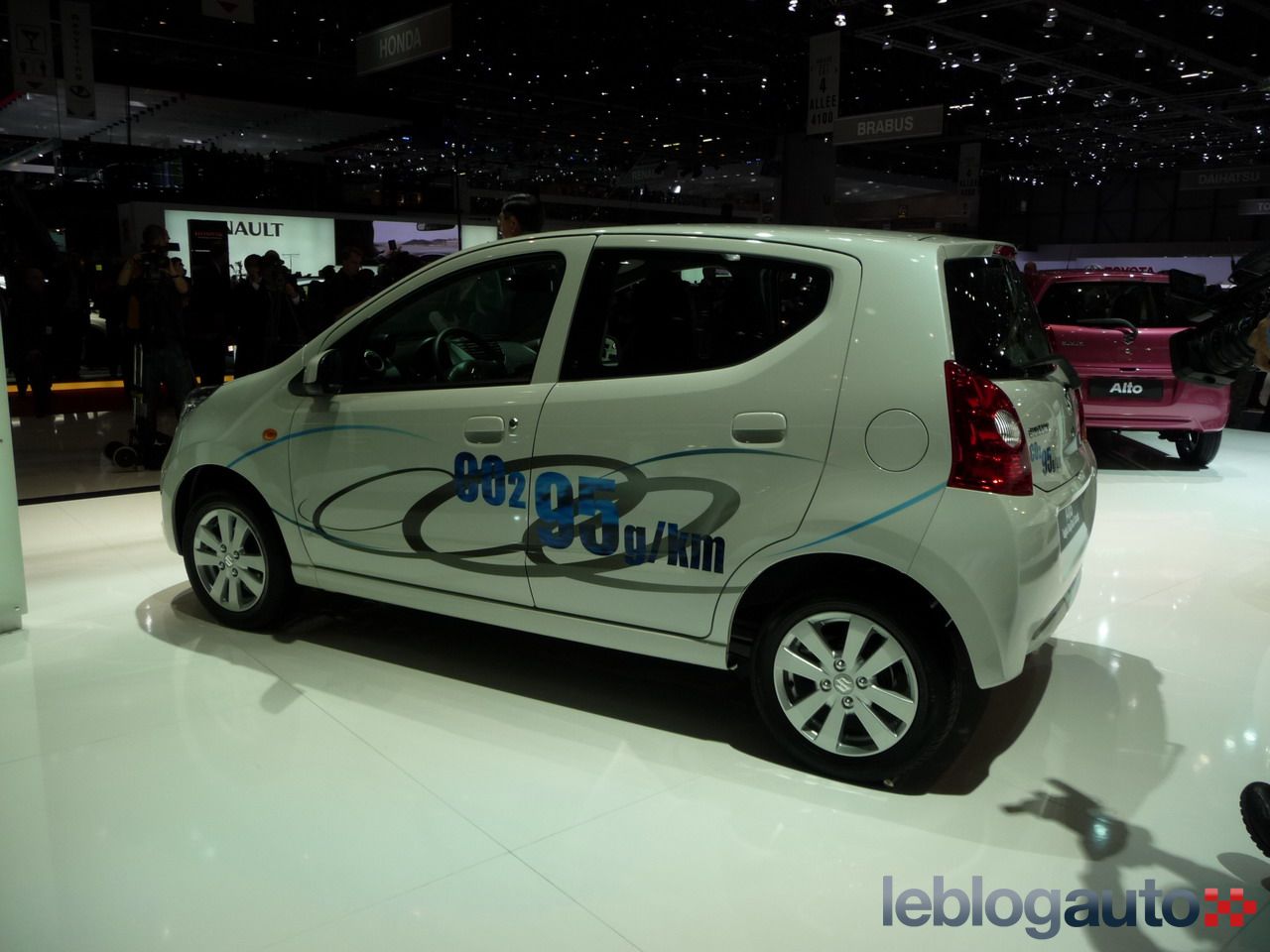 Suzuki, as per their earlier announcement, brought out two of their small cars to the Geneva Motor Show. But don't be fooled thinking they are similar to the cars you see on the road as they have fuel saving technology, debuting under their hoods.
Suzuki Alto and Splash with Start-Stop Image Gallery
The Start-Stop technology, which slips the engine into stand-by mode when waiting at the lights, is incorporated in the Suzuki Splash and Alto (A-Star to Indians) shown at the Geneva Show this year. They are distinguished from the regular cars by decals which read their sub-100 gram carbon dioxide ratings.
IAB Comment- There is no other way to confirm the presence of the start-stop technology on the show cars. If you know, then send us an email.
Image Credit- Le Blog Auto
Press Release
GENEVA, Switzerland 4 March, 2009 – This year has special significance for Suzuki as it's exactly a century since the founder, Michio Suzuki, took his first steps in business as a loom maker. Suzuki's centenary is a testimony to its founder's guiding vision of listening to customers and creating products that give them genuine satisfaction. But this is also a year of challenges for Suzuki: Amid the economic crisis, the global sales in 2008 dropped 1% to 2,361 thousand units, and the sales here in Europe declined by 8 % to 315 thousand units. Toward the beginning of its second century in these exacting conditions, Suzuki is listening to its customers more closely than ever and creating products that clearly reflect their needs and concerns.

A huge part of Suzuki's efforts for the future is centered on the environment. Given the economic circumstances facing the customers, the company believes that offering eco-friendly cars at the most affordable prices possible is vital for reducing CO2 emissions and fuel consumption; so as well as developing fuel cells and other next-generation power units, Suzuki is focusing on ways to maximize the environmental benefits of fully proven technologies. In the effort to deliver economical eco-friendliness, it is fully exploiting the know-how it has gained in more than 50 years of compact-car production and applying a proven Suzuki development approach that brings computer power and human talent together in an exhaustive process of testing and refinement. In that it embodies its desire to offer the customers a "wow" feeling and meet their needs, Suzuki's effort to deliver economical eco-friendliness is a clear reflection of its "Way of Life!" brand philosophy.

The culmination of Suzuki's recent environmental efforts is the Alto—a cheerful, clean-running city car to be launched this spring in Western Europe and later in Hungary and the surrounding countries. Suzuki has based the Alto on a core concept of eco-friendliness since the beginning of its development. To make it eco-friendly without detracting from its styling, the company began optimizing its aerodynamic performance in wind-tunnel tests at the initial clay-modelling stage. And through extensive laboratory, on-road testing and refinement, Suzuki achieved CO2 emissions of just 103g/km and fuel consumption of just 4.4L/100km (NEDC) without compromising the sporty feel that's a hallmark of the Suzuki DNA.

Notably, the Alto offers eco-friendliness for an attractive price. Suzuki made a conscious decision not to incorporate costly technologies such as a hybrid powertrain, so the Alto's affordability is a reflection of its compact-car expertise and of the extensive testing and refinement that the company conducted during the development programme. Never before have Suzuki offered such an affordable car with a comparable combination low emissions, high fuel economy, and great design and performance.

The Splash, which was launched last spring, also reflects a focus on economical eco-friendliness. Thanks to a development approach similar to the one yielded to the Alto, it offers low CO2 emissions (119g/km with a 1.0-litre petrol engine; 120g/km with a 1.3DDiS diesel engine) and fuel consumption as low as 4.5L/100km. The result is a mini multipurpose vehicle with green performance that accommodates long-distance family trips.

With an eye to achieving even greater eco-friendliness, Suzuki is pursuing new environmental initiatives that include development of engine auto stop/start systems and application of intake-and-exhaust variable valve timing mechanism to small vehicles. Through these initiatives, the company aim to reduce CO2 emissions to just 109g/km with the 1.0-litre Splash and 95g/km with the Alto. As with the environmental efforts thus far, Suzuki's goal is to realize superior eco-friendliness with a minimum of additional equipment and a concomitantly minimal increase in cost.

Meanwhile, Suzuki is working hard to offer alternative-fuel vehicles that match customers' needs and the infrastructure in regions where such customers live. In Europe, the company is already offering vehicles that can use bioethanol (E10) and vehicles that can use biodiesel (B7). In India, Suzuki is working to offer vehicles that run on compressed natural gas. And in Brazil, the company is working to offer flexible-fuel vehicles.