While many were confused whether SsangYong is replacing or facelifting the Rexton, the latter turned out to be true.
At the Busan Motor show, SsangYong unveiled a facelifted Rexton - dubbed as the Ssangyong Rexton W. The Rexton W is not an all new car but a facelifted version of the old model.
For those people who are disappointed with the fact that this is not an all-new Rexton, well we have some really good news for you. Because this is just a facelifted model, SsangYong is shipping the  production-ready model to showrooms in a few days in Korea. Here we have images of a production ready SsangYong Rexton spotted in a parking lot.
What's new in the facelifted Rexton?
SsangYong has focused on dynamic styling powerful performance, a variety of safety features,  myriad  of convenience features and affordability. The company was working on this facelift for two and a half years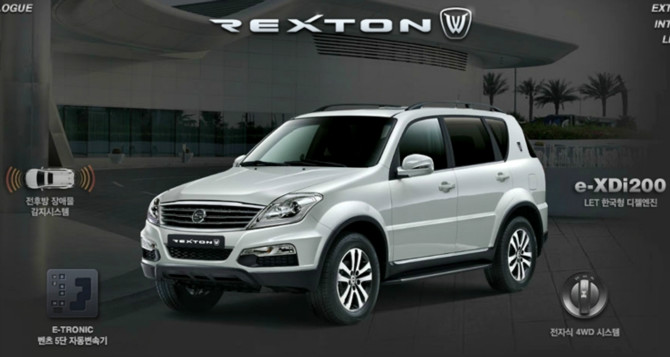 The most obvious change is the all new design that the new Rexton dons. The new Rexton W has been given a much need modern design language. Sure, it's not the best looking SUV but it is MUCH better looking than the old one which was awkward. The front features a massive chrome grill with headlamps that now features a LED strip. The side mirrors now features turn indicators.
It sources power from an all-new 2-liter diesel engine that produces 154bhp of peak power and 367Nm of peak torque. A sportier version of the same engine with two turbochargers producing 200bhp/500Nm will be on offer. Both the engines are mated to a Mercedes-sourced 5-speed automatic transmission. SsangYong claims an economy of 13.7 km/l for the 2WD A/T variant in Korean tests.
Ssangyong Rexton W features
ESP (Electronic Stability Program)
ARP (Active Roll over Protection)
TPMS (Tire Pressure Monitoring System)
UWS (Ultrasonic Warning System).
Smart key
Cruise control
Bluetooth connectivity
Rain-sensing wipers
SsangYong promises that the Rexton W will be in showrooms as early as next month.
Now here is the good part…
The Rexton has been testing in India since last year. However, the model that they are testing is the one with the disappointing design.
But because the Rexton W is just a facelifted model which means that the platform remains the same, there is a really bright possibility that Mahindra will bring the facelifted Rexton W to India. The Rexton, which has a lot more tech, is a very strong contender for the Toyota Fortuner. With the new design, the Rexton W becomes an even stronger contender take the fight to the Fortuner in the luxury SUV space.
We will keep our eyes open for all the news of the Rexton's foray in India. Stay tuned!
Source: hankyung.com & newdaily.co.kr