The Korean car maker SsangYong is all set to unveil an exciting concept at the Paris Motor Show.
Called as the e-XIV Concept (electric – eXciting user Interface Vehicle) is the successor to the the XIV-2 (eXciting User Interface Vehicle 2) which gathered crowds at the Geneva Motor Show.
The XIV concepts from SsangYong represents the company's vision for the future of the B segment. If the XIV Concepts go into production, they will rival the likes of Ford EcoSport, Nissan Juke, Chevrolet Trax and Renault Duster. The XIV concepts will primarily target young audience who want to comfort and practicality of a compact SUV. It goes without saying that the XIV is their entry model.
Ssangyong explained that the XIV gets its oomph from Euro VI compliant 1.6-liter gasoline and diesel engines with a choice of manual or automatic transmissions.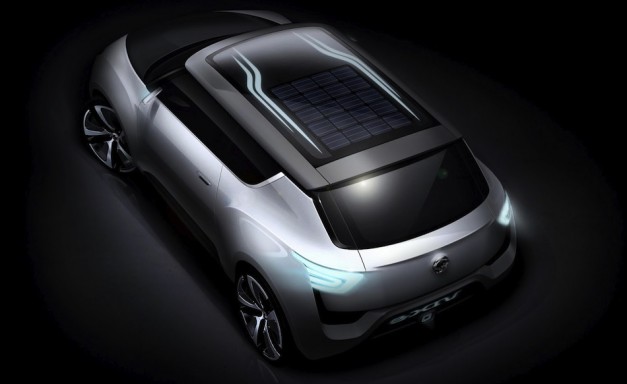 Coming back to the e-XIV, as one would have imagined by now, it is powered by an electric motor backed up by a small petrol engine. It gets a glass roof which incorporates solar cell panels to generate more electricity. Ssangyong could explore synergies with REVA to realize the dream of introducing a compact electric crossover.
The Ssangyong e-XIV concept measures 4,160mm long, 1,790mm wide, 1,575mm high, and rides on a 2,600mm wheelbase.
Most XIV Concepts feature an advanced user interface system which enables the user to control all the functions of the cabin via a mobile device.
More details will follow once it debuts at the Paris Motor Show.