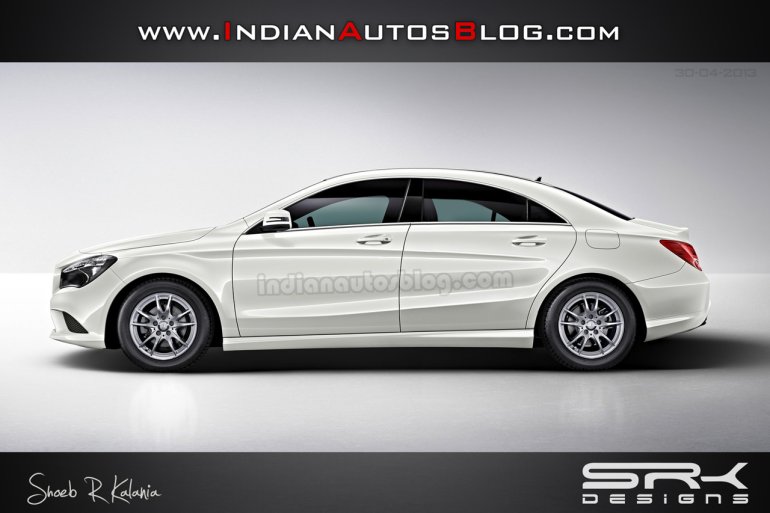 After continuously bleeding market share to BMW and Audi, Mercedes is finally showing signs of recovery, not only in India but globally as well.
The newly unveiled A Class is doing exceptionally well in the markets that it is launched. The CLA Class, which was unveiled at the 2013 Detroit Motor Show, was well appreciated by the critics. The S Class is ready to make its public debut on May 15. Things are definitely looking bright!
Mercedes is capitalizing on the rolling snowball by developing multiple products on the MFA platform which currently underpins the A Class, CLA and the B Class MPV. We already know that a shooting brake version of the CLA is in the pipeline.
We also know that Mercedes is planning a long wheel base version (LWB) of the CLA mostly for the Chinese market. Here, we have a rendering of the LWB CLA envisioned by our very own SRK.
The Chinese market is huge and they have a specific liking for LWB versions. The CLA Class is bound to do well in the Chinese market because of the unique proposition that it offers – a relatively inexpensive sedan with a posh tri-star badge.
An LWB version will make sure that the Mercedes hits the sales chart with a massive sledge hammer. It will be manufactured exclusively at the company's Beijing-Benz joint venture facility.
Mercedes has strong ambitions in China. The company plans to sell 300,000 cars by 2015 and 66 percent of them will have high percentage of localization. Currently, Mercedes manufactures the C, E and GLK Class. Pretty soon, the A, B Class and the CLA will join the club.
[Source: Auto-motor-und-sport.de]