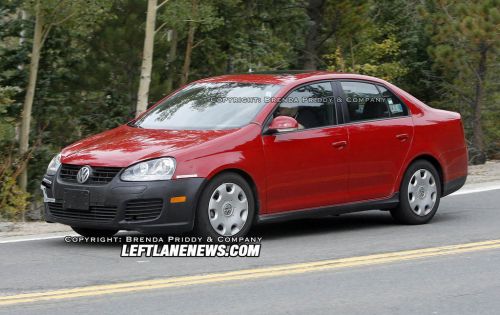 New pictures of the 2010 Jetta has surfaced, and at first, its looks no different. To a casual eye it may look exactly the same as the existing model. But, if you concentrate very hard(till it hurts!) and keep staring at the pictures, boy can you spot the differences! Quite seriously, this is the laziest face-lift we have ever seen (with the exception of Porsche though). The Styling seems to be "Deja-Vu"
All the Chrome has gone, the modest changes include a duller grill and a redesigned lower front fascia. No changes have been made to the interiors and rear. In all, the whole car has been subdued - very boring.
With the Cheverolet Cruze (New Optra), due to be launched next year, the Jetta will have a run for its money. Our verdict is that, the 2010 Jetta has gone off course. The lower luxury segment's competition in India is hotting up day by day. In the styling aspect then, the Jetta will not stand a chance against the new cars like Toyota Altis, Civic and new Cruze. But, when it comes to economy and reliability, the Jetta is in a class of its own. Especially after it broke the World record after registering a whopping 26 kmpl in a journey across the United States.
2010 VW Jetta Spy Pictures Gallery
Source- LeftLane News