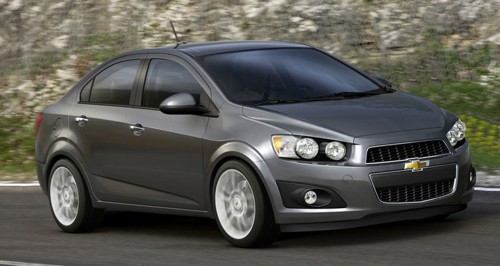 We have been regularly bringing you spy shots of the next gen Aveo siblings and we also showed you the pictures of the production version Aveo Hatchback (UV-A) that was recently unveiled at the Paris Motor Show. IAB also brought you the first drawings and the first official picture of the next gen Aveo Sedan that is stated to be unveiled either at the LA Auto Show( November 2010) or the Detroit Motor Show(January 2011).
The production Aveo Hatch(UV-A) that was showcased at the Paris Motor Show was a show stopper. The car looks smashing with the twin barrel headlamps, the bulges and creases , the split grille and tail lamps that look pretty similar to the Beat. Also, just like the Beat the rear door handles are mounted on the C pillar. The interiors too are similar to the Beat as well as the Cruze and come with loads of equipment.
Now the question is, when is the India entry? It is confirmed that the sedan version of the Aveo (sedan) will enter India before the hatch version. It is expected to come 3 engine options- 1.4 liter 100 BHP Petrol, 1.6 liter 115 BHP Petrol and most importantly the 1.3 liter Multijet Diesel with VGT (95 BHP) that will be locally manufactured at GM's Talegaon Plant.
The hatch (UV-A) will then enter India with a 1.2 liter and a 1.4 liter Petrol heart and the 1.3 diesel. The hatch and sedan will go into production early next year in South Korea and will then be gradually launched in other markets.
We expect the sedan to come to India in the second half of 2011. But if sources are to be believed the entry of the Aveo siblings might be delayed in India thanks to SAIC. Since SAIC has bought a stake in General Motors India there are chances of the company wanting to launch their products (like the Sail Hatchback or Sail sedan) first and then giving way for GMDAT products.
Although we have not got a confirmed period of launch by GMI we do expect the sedan to definitely enter India next year if not the hatch (UV-A). Stay tuned to IAB for more on the next gen Aveo.