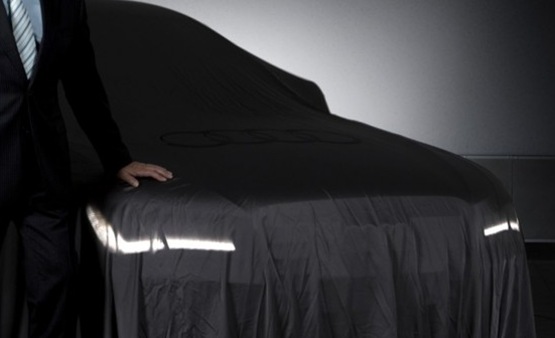 Audi revealed the first teaser image of the 2011 Audi A8 which shows the car veiled in black cover. With the LED daytime running lights glowing and the car's grille outline emerging out of the cover, a lot can be said about the next A8.
Though a rendering we showed earlier has a lot in common with this teaser, we still have no confirmation from Audi regarding the body shape. Despite hearing from people about flared wheel arches and the car spanning on a stretched wheelbase, we think its too early to call. An A5 Sport back like coupe-profile was also expected.
We had a special report on the A8 a few months back. We thought we'd brush-up a few points (officially revealed) mentioned in the report. So here they are below.
Design:
Externally, the Audi trademark large single-frame grille, LED daytime running lights and a coupe-like profile will be seen in the all new A8 aswell. The 'Skin' of the car,i.e. the body is expected to see more exotic materials such as aluminum and magnesium employed to help save further weight and improve dynamics.
Will be the first of a new styling language at Audi
"The first generation was very dogmatic and product-design-like. With the second generation, the theme was 'elegance' softer, flowing lines. The upcoming third generation will be stronger, sharper, and more precise." explains Audi's Chief Designer, Stefan Sielaff.
Weight Reduction:
The weight-saving aluminum spaceframe body will remain, due to which the car's final kerb weight is expected to range from between 1,650kg and 1,900kg (which is spectacularly good for a big engined huge car like the A8). Less weight also brings into picture - improved fuel efficiency, better performance and improved driveability.
Drivetrain:
A8 AWD variants to feature Quattro
The base model will remain Front wheel drive but AWD variants will feature the latest quattro torque vectoring SportDifferential, which distributes drive individually between each axle and between the rear wheels for improved traction and stability. There will also be electronic control for the air-suspension, steering, pedal response and transmission systems.
Engine Options:
There will be a wide range for engine options which will feature
250Bhp 3.0L V6 TDI
290Bhp 3.0L V6 FSI
340Bhp 4.2L V8 TDI
372Bhp 4.2L V8 FSI
620Bhp 5.0L V10 FSI but its reserved for the Audi S8
Possibly, Audi's new 6.0L V12 TDI might also be offered.
There will also be more supercharged units as well as increased application of Audi's latest valve-lift system.