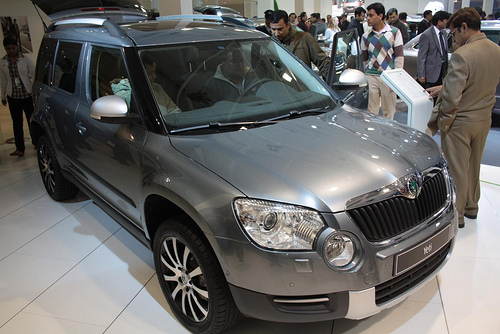 Skoda India is gearing up for the launch of SUV Yeti in June-July, this year. The Yeti would compete head on with the European and Japanese mid-size sedans. Yesterday, Skoda India organized the 'Yetival' at the nation's capital, an informal tweet up session for car enthusiasts, online bloggers, social networkers and other automobile aficionados.
Enthusiasts got their first hand feel of the car and had an opportunity to discuss with each other about the Yeti and its features.
Megha Verma, Head of News Meadia, Skoda India-
I am thrilled by the overwhelming response to the first Yetival; it reflects the nation's growing excitement for our upcoming SUV Skoda Yeti. It gives me immense pleasure to bring our online friends together at this offline meet for a sneak preview of the Yeti.
The Skoda Yeti is a great car with an excellent combination of elegant looks, robust stance and classy interiors. And people in India simply love the Skoda diesels. The Skoda Yeti is all set to tour the width and breadth of India to create some pre-launch awareness.