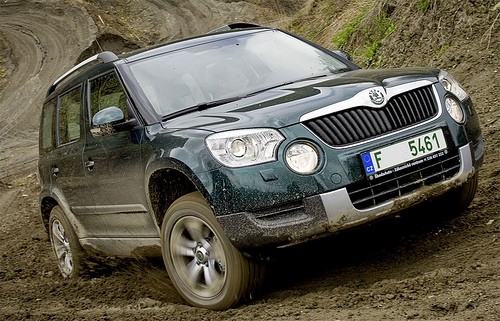 The Skoda Yeti was a star attraction of the 10th Auto Expo in New Delhi. The Skoda stall was crowded with people who were trying to catch a glimpse of this good looking SUV. Of course the cute yet abominable creature-the Yeti proudly stood beside the SUV!
It almost crushed me when I tried taking a close-up snap of the Superb Combi. Moving on -
Skoda is pretty serious about the Yeti and even displayed it (along with the creature!) at the Lakme Fashion Week in Mumbai last month to generate some interest. Now the company is taking the car for an India tour like its pals Toyota, who can't stop showing the Etios twins  to the people of India.
The Yeti tour kicked off in Chandigarh on April 15th & will cover the Punjab & Delhi NCR region this month. Skoda plans to take the Yeti to other cities too. This is a good marketing strategy which generates customer interest & brand awareness.
The Yeti will slot between the Safari/Scorpio & Fortuner/Captiva. The car is very well built & feels very plush on the inside, which a Skoda trademark. It is a 5 seater with flexible seating options for the second row. Expect all the bells & whistles in the car right from a touch screen interface, dual zone climate control, 6 CD changer & all the other goodies.
The car has pretty good off road credentials too with electronically operated 4 wheel drive system & an intelligent hill descent control system. The car has the right size for city use & since Skoda enjoys a good brand image in India, you can expect even a CR-V customer to take a look at the Yeti.
The car will initially come with a 2.0 Diesel engine, the same one that powers the Superb. There is a possibility of a TSI engine (1.8) at a later stage. Transmission options include a 6 speed Manual & a 6 speed DSG gearbox. The car is expected to be priced between 13-17 lakh rupees & will hit the Indian market in the second half of 2010.