Czech car manufacturer Skoda has brought the Vision E concept for a showcase at the 2017 IAA in Frankfurt. It previews a full electric crossover which, as Skoda CEO Bernhard Maier has confirmed reportedly, will debut in 2020. It will be based on the MEB platform, and share its internals with the VW ID's production version. Technical details of the electric crossover have not been divulged, but the Vision E concept is powered by two electric motors on each axle producing a total output of 302bhp. It has a top speed of 180 km/h and a maximum range of up to 500 km. Skoda claims that the batteries can be charged to 80 per cent capacity in only 30 minutes using a proprietary charging station, and inductive charging will also be available
The production version is expected to come with a range of outputs and option between two and four-wheel drive variants. The Vision E measures 4,688 mm long and 1,591 mm, making it slightly smaller than the Skoda's seven-seat SUV, the Kodiaq. However, at 1,924 mm, the Vision E is wider. Moreover, with a 2,851 mm wheelbase, the concept is slightly longer than the Kodiaq's 2,791 mm wheelbase. Given that it is powered by an electric drivetrain, which doesn't take up much space for integration, expect interior space to be voluptuous.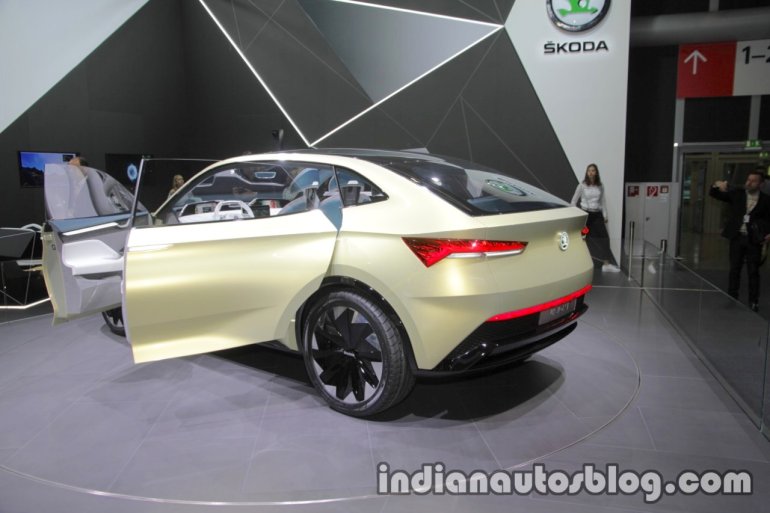 The exterior does draw influence from the Skoda Kodiaq as well. It also gives an idea of what a possible Kodiaq coupe could look like. Given that coupe-influenced crossovers are becoming popular in the ever-expanding market, it would not be a surprise if Skoda had not thought about introducing one.