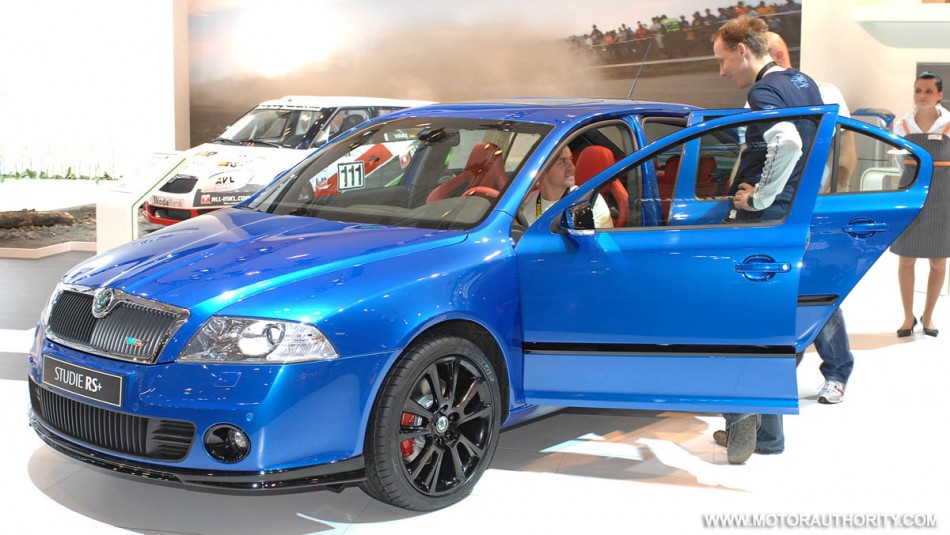 Skoda Octavia RS+ Concept
Skoda's recent makeover and facelift treatment for its range now extends to the Skoda Octavia RS (Skoda Laura in India). At the Essen Motor Show in Germany, Skoda presented a concept version of its flagship Octavia RS model, the Studie RS+(study). The existing international version of the Octavia RS, sadly has not made it to India.
While the car's sporty exterior has been intensified, its mechanical components remain the same. The five-door hatch keeps its 200 Bhp 2.0L turbocharged petrol engine and 2.0 TDI of 170Bhp.
Changes purely external. Seats, wheels and door panels change
Major external changes comprise of black chrome alloy wheels, dark plastic front splitter and rear diffuser, and black side mirrors. This black color is unusually referred to as piano black by Skoda.
Interior comes two-toned - black and red, all of which is used on the Recardo bucket-seats, door panels and triple-coated leather steering wheel. Dashboard and door panels sport a carbon-fiber look.
The concept shows what one can expect on the Octavia RS next year.
IAB Comment- These models will add variety to the Skoda lineup. However, one cannot blame Skoda for not bringing it here. The current economic slowdown has left manufacturers confused, and what they will be focusing on right now is on how to sell their existing cars. Once the economy bounces back, hopefully by the end of this fiscal, you can expect more launches.