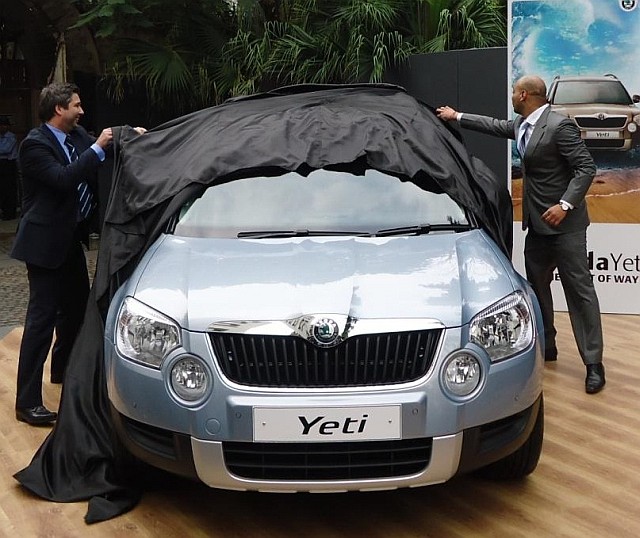 Skoda has been talking about a bigger SUV for ages but no concrete information was available till date. The company was claiming that it plans to split the Yeti bloodline into 2 SUV for the future. However, thanks to our friends at CarMagazine, we bring you some juicy details of the new Skoda SUVs in the pipeline.
A bigger Yeti – Snowman/Grand Yeti
Skoda was constantly eying a full potential SUV for its brand. The current Yeti is more of a city-dwelling soft roader. The company has revealed that it will develop an SUV on the Tiguan platform and the SUV will be on sale in 2014.
The Czech automaker is in a conundrum with respect to its name. The company is contemplating on Skoda Snowman or Skoda Grand Yeti. (*Perhaps IAB audience can help them solve this confusion in the comment box*)
The flagship SUV will be available in standard wheelbase, extended wheelbase and four-door coupe. It will be based on the very versatile MQB-A platform. The design will feature a trademark front end with waterfall grille and four quasi-round headlamps. It will have a fastback side view in combination with a higher roofline, and a muscular rear end with a deep tailgate and C-shaped light graphics.
The Czech giant has officially confirmed that the flagship SUV will head to India.
Yeti Replacement?
The Skoda Yeti has been a huge success story for the company. However, the company is already planning a replacement of the Yeti. The current Yeti uses a mix of Polo Mk4 and Golf Mk5 underpinnings. The all new Yeti will be based on a whole new architecture that is being developed for the 6th generation Polo. The new layout will be lighter, stiffer and more efficient as well as about 20% cheaper to build.
The new Yeti will have a wider track and an extended wheelbase. It will be powered by  improved version of the existing engines (1.4 TSI with 150bhp and a 2.0 TDI boasting 177bhp) with additional driver assistance systems.
[Source: CarMagazine.co.uk ]