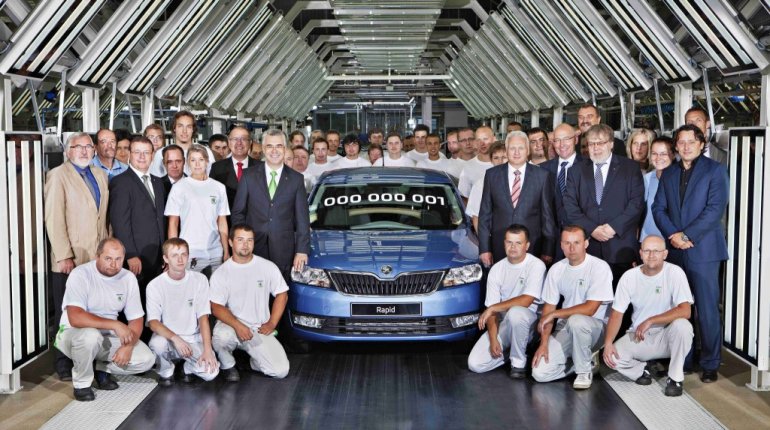 The European Skoda Rapid belongs to the compact car segment and just like in India, it sits right between the Fabia and the Octavia in Europe. In the first half of 2012, Škoda manufactured 530,000 vehicles worldwide and have broken some sales records along the way.
To maintain this growth trajectory, they have to rely on new launches in the affordable segments, such as the Citigo and Rapid.
On the 23rd of August, Škoda Auto launched the production of the European Rapid at their Mladá Boleslav plant. Rolling out alongside the Octavia and Fabia, the start of the Rapid's production has seen the inauguration of new halls now amounting to a total of 17, employing more than 141 planners and 2,000 employees.
The production capacity of the assembly line will be increased from 800 units to 1,200 units per day in the future. This leads to an increase in the length of the production line by about one-third of its previous measurement.
Škoda is developing some country-specific models on the Rapid platform, which will be aided by the local production of the car. The platform however remains the same. The Indian version differs entirely from the European version as it lacks the MissionL styling language, the new logo, Hatch-like tailgate and the redesigned dashboard. India also gets simple and low-cost powertrain options.
The Škoda Rapid will be launched in Europe in the next couple of months with a range of powertrain chocies. Following that, a China specific model will be showcased in 2013, which will be produced locally. The Russia specific model will bow during 2014 and will be produced at the Volkswagen plant in Kaluga.
We hear Skoda has much more in store with the Rapid platform. Ideas like a station wagon and hatchback are reportedly on the anvil for the coming years. We are certainly going to see these ideas in the form of studies at the upcoming motorshows in Europe.