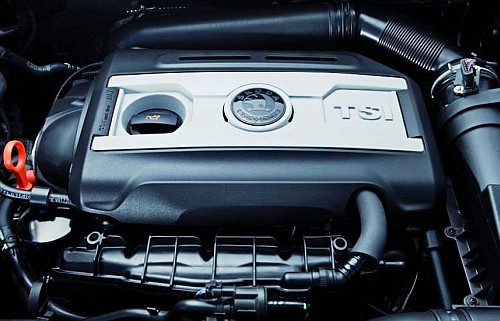 Skoda Auto recently produced its 100,000th 1.2 liter TSI petrol engine at its engine and transmission manufacturing plant in Mladá Boleslav in Czech Republic. The 1.2 TSI (Turbocharged Stratified Injection) engine is used on the Fabia, Octavia, Yeti and the Roomster. The engine is also used in other Volkswagen models and various Seat small cars.
This turbocharged petrol engine comes in two different states of tune, a 84 hp version and a 103 hp version. This Fabia with a 1.2 TSI engine mated to a 7-speed twin-clutch DSG gearbox, is capable of delivering 19 kmpl.
Reinhard Jung, Chairman , Škoda Auto -
This is another milestone in the 110-year history of engine production in Mladá Boleslav. The massive demand for the 1.2 TSI shows that our engines with optimized consumption are the right direction.
Sadly the Indian market does not get this turbocharged 1.2 liter 4-cylinder motor, we only get a 1.2 liter HTP 3-cylinder unit on the Fabia.
Skoda could be introducing the 1.2 liter TSI petrol engine on the Indian Fabia when it launches the updated version of the Fabia in October 2010.
Also the 1.2 TSI engine could be powering a lot of other Skoda and VW models in India. The upcoming Octavia replacement, Skoda Felicia could be powered by the 1.2 TSI engine.
Source: autochannel