According to Automobile Magazine France, Czech brand Skoda will launch two models below the Yeti to form a strong crossover family.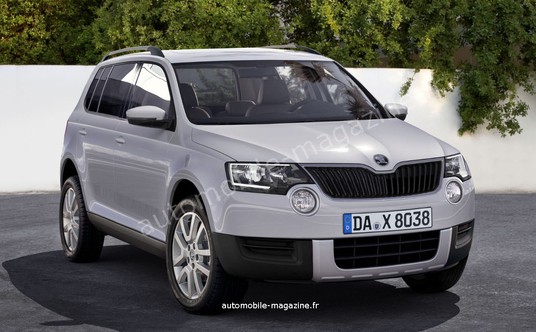 To be launched in 2015, the 'Skoda Polar' (tentative name) is the proposed model with plenty of adventure packed into it.
The Polar will be around 4.1 m long and will be aimed squarely at the customers of the Nissan Juke, Peugeot 2008 and higher variants of the Renault Duster. It design and engineering formula will be same as the super-hit Duster - robustness and simplicity - and like the Yeti, despite its proportions, won't look like a "monster" the report adds.
The Skoda Polar will be based on the MQB platform that underpins the VW Golf and Audi A3. The entry-level model gets FWD, while a variant with AWD is also planned.
The VW Taigun concept presented in Brazil last month would also head to the production lines by mid-decade. Its underpinnings come from the smaller and less expensive platform that is used by the Up!. Media reports overseas already hint that Skoda would get a rebadged version of the Taigun for markets where it has a strong recall. Skoda sells a rebadged version of the Up! called the 'Citigo' in Europe.
Skoda has initiated work on the next generation Yeti and a facelift for the currently plying model for 2013 was seen testing at the foothills of the Alps earlier this year.
[Source - Automobile-Magazine.fr]