Note - New image gallery added.
Skoda India today formally announced the return of the Octavia brand to India. Incidentally, production lines at Skoda's plant in Aurangabad, Maharashtra also produced the first vehicle for the market.
Skoda CEO Prof. Dr.h.c. Winfried Vahland said: "By far our most important model in the Indian market (the Octavia) is also an engine of growth for Skoda."
The Octavia launched the Skoda brand in India in 2001 and the third generation Octavia unveiled for India today is explained as the largest, safest, most comfortable and environmentally friendly among all generations. Skoda India announced its market launch during the festival season and confirmed the phasing out of the Laura. However an exact launch date has not been revealed by the company.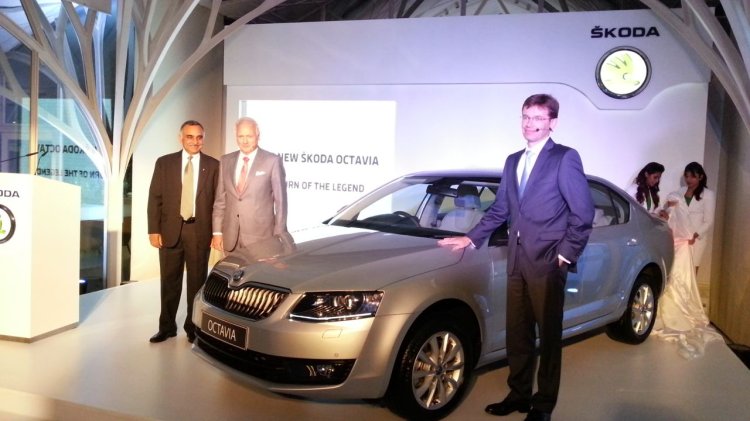 The first generation Octavia was sold between November 2001 and October 2010. 44,900 units of the model were retailed during this period. Since 2001, Skoda has sold a grand total of 178,300 vehicles to Indian customers.
Skoda's factory in Aurangabad which assembles the Octavia also makes the Superb, Yeti and Laura.
Skoda has not revealed the powertrain options or the important features on the new model. The only numbers we're able to gather from the press release is the Indian car's dimensions, which are the same as the European car - its 10.8cm longer in wheelbase and 9cm longer overall compared to the Laura.
Externally, design highlights include LED daytime running lights, upswept rear window line and the signature C-Shaped stoplight cluster.
Officials said that India can look forward to product refreshes in the future, and an aggressive product plan has been finalized.
Press release attached on the next page.
New Skoda Octavia unveiling - Image Gallery
Skoda Octavia production commencement in India Press Release
[Can't see the press release above? Head to Issuu]