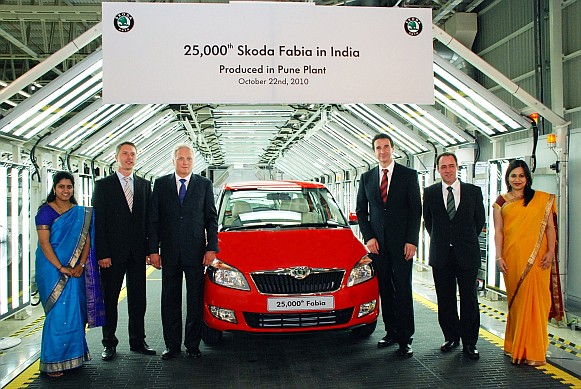 Riding on the success wave created by the Skoda Rapid's launch, Czech auto maker Skoda has planned to increase localization levels on its cars and rationalize prices to be able to shed its image of a premium auto maker in India.
Skoda India's newly appointed Managing Director Sudhir Rao told Business Standard Motoring that a product blueprint is being plotted and a plan for 150 dealer outlets by 2015, up from the current 102 outlets, is being executed.
An equity infusion to the tune of 300 crore announced recently will go towards sourcing a larger chunk of local components.
The Volkswagen group has designed the MQB platform that will underpin all future Volkswagen group vehicles. If the MQB platform is localized aggressively, it could lead to the price drop Skoda India's speaking about. The MQB platform is likely to underpin at least 40 vehicles of the VW, Skoda, Audi and SEAT branded cars globally and many new VW Group models could be manufactured in India.
The Skoda India official has also spoken about the Fabia's future. An upgrade or makeover could be in the pipeline as sales of the Fabia are sinking. The next generation Fabia continues to undergo development atop the MQB platform. In the meantime, Skoda could offer India-specific upgrades or feature add-ons on the Fabia. We have no details on what these changes could be as internationally no such cosmetic operations were conducted. The festival season is a suitable time frame to launch any new products this year.
The company is in no hurry to launch the Citigo and a decision could be made only after Volkswagen has finalized plans for introducing the Up! The sub 4.5 lakh segment will not see any participation from Skoda India yet.
[Source - BSMotoring.com]