Overview
The  Skoda Yeti arrived in India in November 2010 on the back of a successful award-winning early stint in Europe. Critics raved about the Yeti's capabilities and the Skoda's first SUV went on sale amid positive feedback from the media. However, Indian car buyers weren't too kind to it. Nevertheless, the Yeti soldiered on with single digit monthly sales before bowing out of the market earlier this year. Now, Skoda is back with its first seven-seater SUV ready to court premium SUV buyers. I spent a day with the Skoda Kodiaq amidst Kovalam's unpredictable weather to find out if the new SUV has got enough game to woo Indian customers.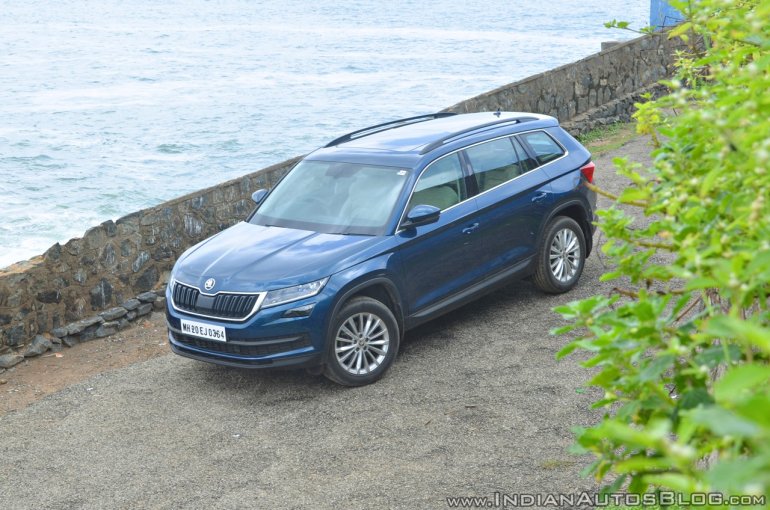 What does it look like?
Skoda's head of design says his team was inspired by traditional Czech crystal glass art. Now I'm not familiar with that glass art so we'll just have to take the company's word for it. However, what I can tell you with a fair amount of conviction is that the Skoda Kodiaq is a looker.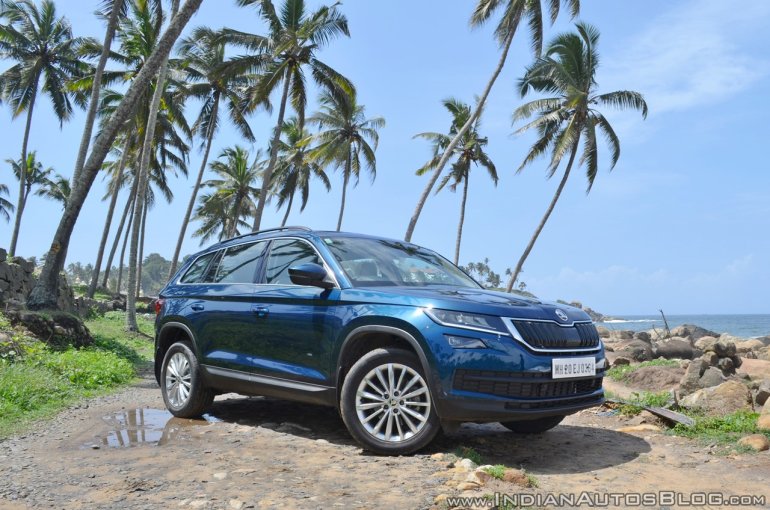 The nose gets the signature 'Butterfly' grille and narrow headlamp units with LED DRLs and full LED lighting. This Adaptive Frontlight system or AFS adjusts lighting intensity to suit specific conditions like city, motorway or driving in the rain. The slightly odd shape LED fog lamps lend a helping hand under poor light conditions. LED lighting continues at the back with the tail lamps and their C-shape LED motif. These don't sit flush with the sheet metal and exhibit some of the aforementioned Czech crystal glass art inspired design.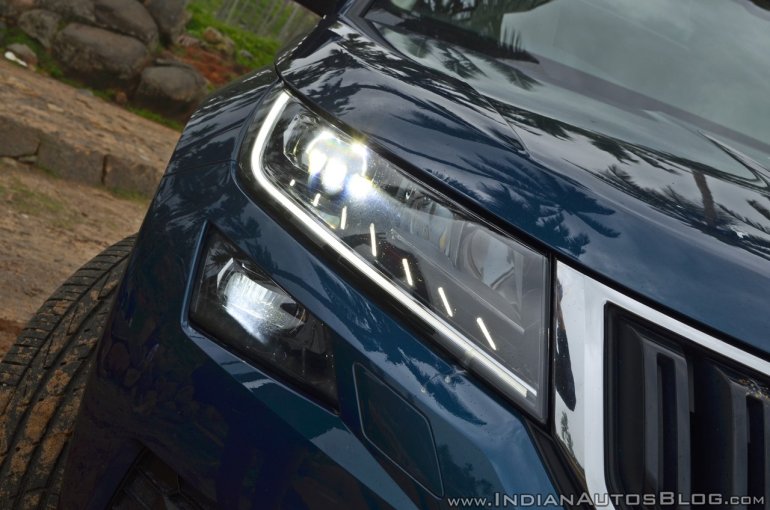 In a nutshell, the Skoda Kodiaq looks like a shrunken first generation Audi Q7. And that's not a bad thing if I'm being honest. Clean sharp lines and generous proportions lend Skoda's latest great road presence, which is a prerequisite for any SUV hoping to succeed in India.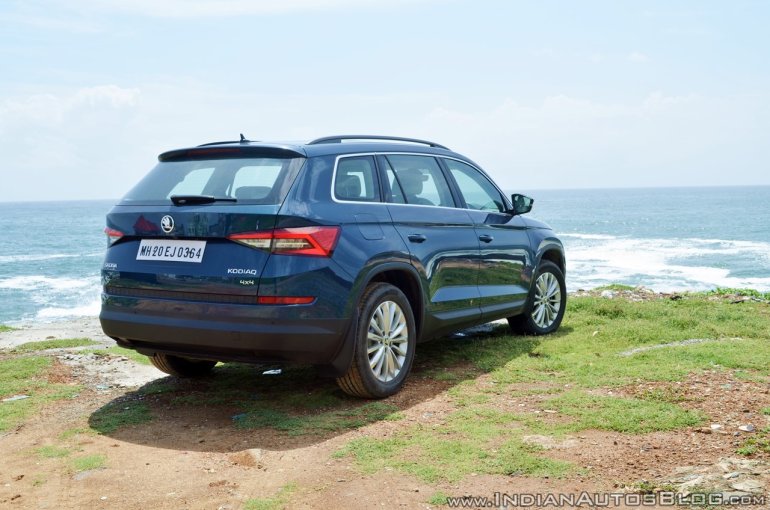 What's it like on the inside?
The simplicity of the dashboard's design is the most alluring bit about the Kodiaq's cabin for me. That and the generally high levels of quality mean I struggled to find faults. The Amundsen infotainment unit scores high in terms of the display quality and ease of use. It allows users to hook up their smartphones via Android Auto, Apple CarPlay, or MirrorLink. And bless Skoda for retaining good old fashioned physical buttons for volume control and other functions. Speaking of sound, there's a 10-speaker Canton audio setup on board, which offers a rather pleasing aural experience.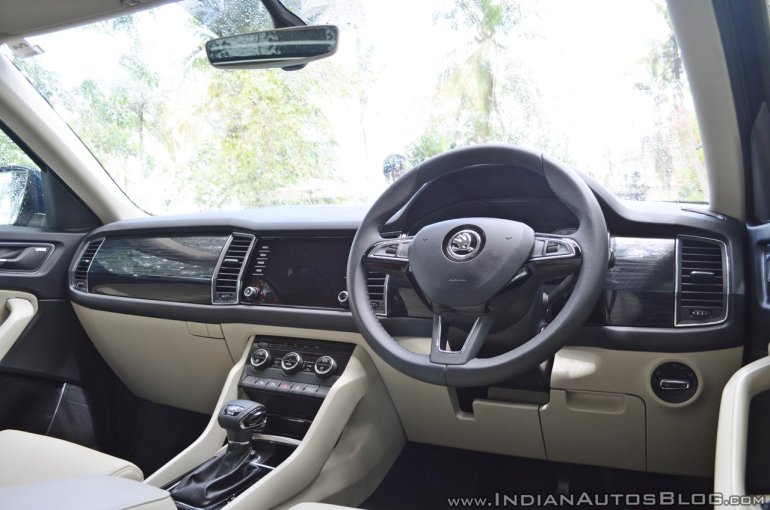 The usage of beige and leather gives the cabin of the Skoda Kodiaq an airy and plush feel. The massive panoramic sunroof just adds to the feeling of airiness. Both front seats can be moved about electrically and the driver's seat gets memory function so you don't end up spending too much time adjusting all 12 setting everytime you swap driving duties. Those of you planning on handing the keys over to your chauffeur will be happy to note the rear seats are comfortable and get their dedicated air conditioning zone. Their headrests also get flaps that pop out to keep your neck in place in case you want to catch some shut eye. Oh, and did I mention the comforter placed in that grey box hanging from the front seat headrest?
Staying true to their 'Simply Clever' tagline, Skoda offers the Kodiaq with a whole bunch of clever features. I spent a good amount of time just going through all of them and I'm almost certain I still managed to miss some of them. Aside from the headrest flaps I already mentioned, there are twin gloveboxes, 10-way adjustable ambient lighting, removable dustbin in the front door pockets, and cleverly integrated umbrellas in the front door.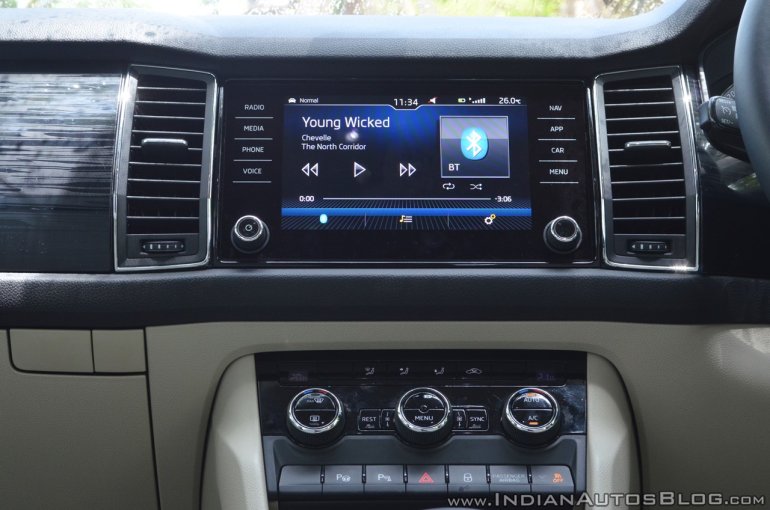 The most clever bit, however, are the black rub strips that stick out every time the doors are opened to prevent those pesky dings to the paint in cramped parking spaces. The boot shuts itself via a button and there's also gesture control wherein you wave your foot under the bumper and the boot pops open. The value of which you'll realize when you turn up to the car with your hands full of shopping bags or camping equipment or some such. The only real issue for most is likely to be the third row, which, frankly, is fit only for pre-pubescent children. Then again, the third row of almost every car is uncomfortable so, for me at least, it isn't a deal breaker.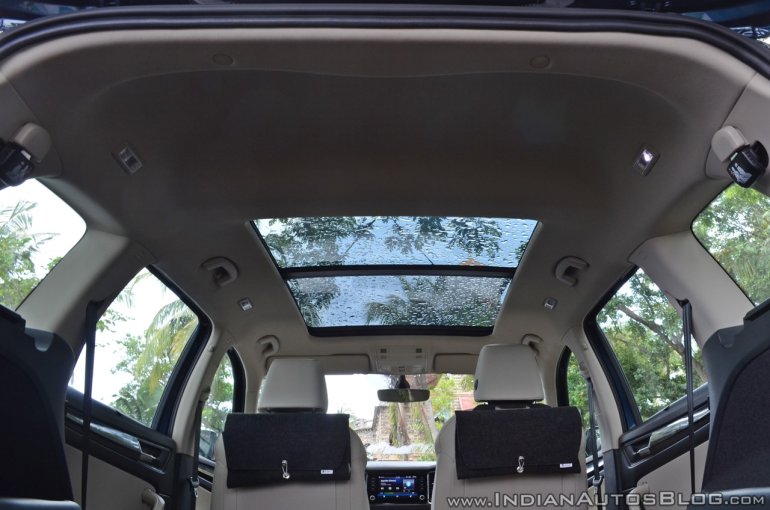 What's it like to drive?
The spec sheet did not exactly light my eyes up. The 2.0 L TDI diesel under the hood producing 150 HP and 340 Nm doesn't exactly get your heart racing, does it? But I'm happy to report that despite the Kodiaq's bulk, the engine does a good job for the most part. The 7-speed DSG, a first for the 2.0 L TDI in India, plays an important role in ensuring the power is put down cleverly. Gear shifts are smooth and precise, typical DSG affair. Although I should point out that the Kodiaq does feel a bit sluggish especially when your right foot orders a quick overtake.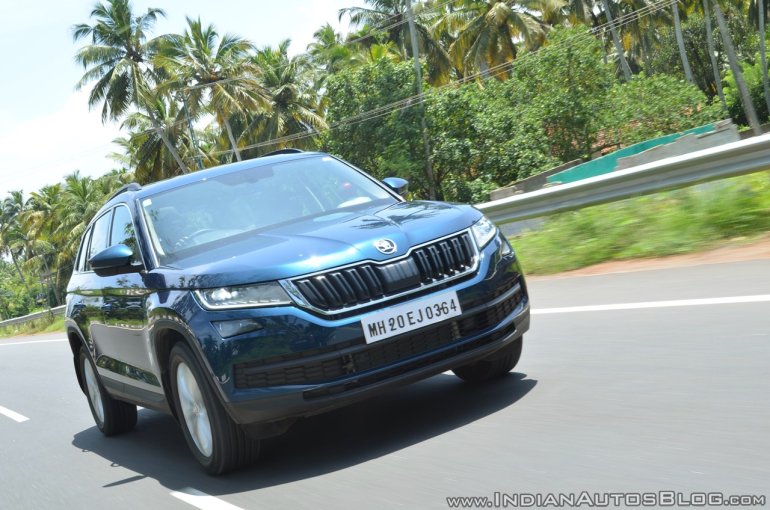 There's also Sport mode along with paddle shifters for the enthusiastic lot. I should also mention the other four modes on offer including Eco, Normal, Individual, and Snow. These affect the aircon, steering, engine and gearbox response. I didn't get enough time to explore these properly so, more on that hopefully later.
4x4 is standard on the Skoda Kodiaq. In normal conditions out on public roads, which is where it will be spending most of its time, 96% of the torque is sent to the front wheels. As much as 50% of the torque can be sent to the rear wheels depending on how adventurous you get with your Kodiaq. Which, I suspect, most buyers won't be, but it helps to know the car is capable of pulling itself out of sticky situations.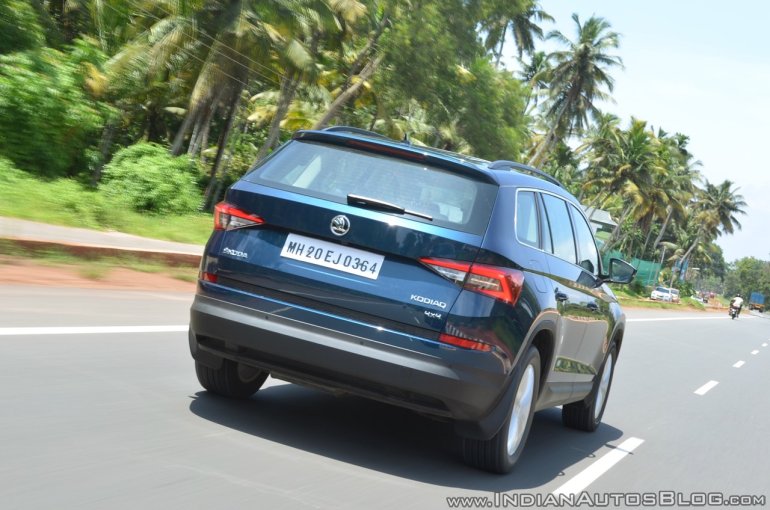 On road mannerisms of the Skoda Kodiaq score high in my books. The suspension setup irons out most bumps remarkably well. It has the familiar planted feeling at speeds we've all come to associate with most products from Skoda's stable. Some might take issue with the slightly stiff setup, but I find that to be a more than acceptable price to pay for the otherwise impeccable ride quality. Combine that with a well-weighted steering and you get a rather enjoyable car to drive as far as SUVs go. It's not the sharpest and it isn't meant to be. It's easy to manoeuvre in the city and calm out on the highway and that is something customers will appreciate I'm certain.
Should you buy one?
Skoda is offering the Kodiaq in just a single fully loaded Style 4x5 trim for INR 34.50 lakhs (ex-showroom). It has the big bulky presence associated with SUVs. Happily, however, it doesn't feel that way from behind the wheel so, it sort of combines the best of both worlds. The list of features is quite extensive, the performance is satisfactory, and the Kodiaq is comfortable to drive as well when driven in. If I were to list out all the positives and negatives of the Skoda Kodiaq side by side, the right column will be noticeably shorter.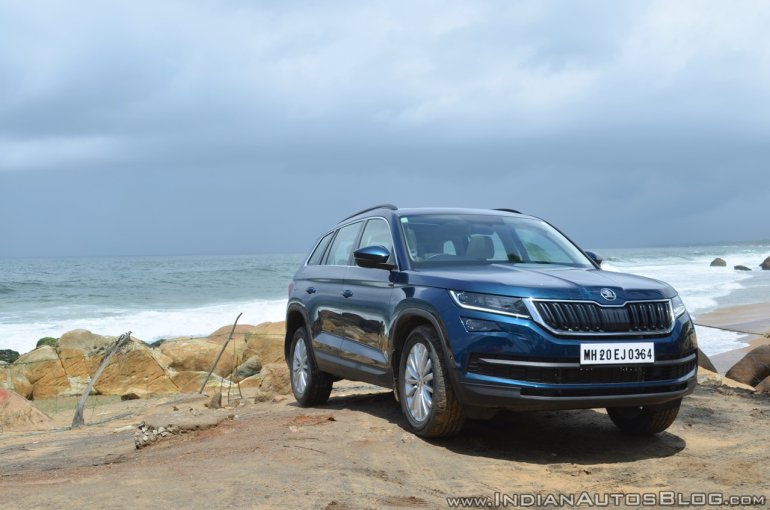 In my opinion, the biggest challenge for the Kodiaq will be pulling customer away from its rivals. It's not that the Skoda Kodiaq is objectively better or worse than the rest, it's just that Indian buyers have shown an affinity for the big and bulky that seat occupants a fair few meters off the ground.
What you want parked in your garage is for you to decide. I know the price tag does little to help its cause, but I suggest you view the Skoda Kodiaq as a cheaper alternative to more premium luxury SUVs from the Germans. A cut-price Audi Q5, if you will. So, do me a favour, and take a long hard look at the Skoda Kodiaq before you put your money down elsewhere.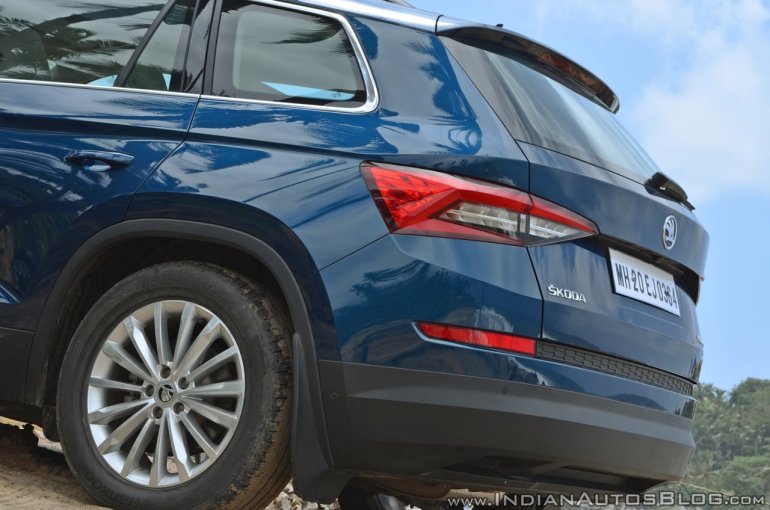 Skoda Kodiaq review – Features
| | |
| --- | --- |
| Exterior | Interior |
| LED headlamps with Adaptive Frontlight System (AFS) | Abiente lighting |
| LED DRLs | Keyless entry and engine Start/Stop button |
| LED tail lights | Panoramic sunroof |
| Door edge protector | 12-way electrically adjustable front seats with memory function |
| Electrically adjustable, foldable, and heated ORVMs | Apple CarPlay, Android Auto and MirroLink |
| Virtual boot release pedal | 10-speaker Canton sound system |
| Electrically controlled boot | 3-zone climate control |
| | Umbrellas pockets in doors |
| | Park assist |
| | 9 airbags |
| | ABS, ESP, traction control |
 Skoda Kodiaq review – Specifications
| | |
| --- | --- |
| Engine | 2.0 L TDI Diesel |
| Transmission | 7-speed DSG Automatic (DQ5007A0 |
| Power | 150 PS |
| Torque | 340 Nm |
| Mileage | 16.25 km/l |
| 0-100 km/h | 10.1 s |
| Top speed | 192 km/h |
| Length x Width x Height | 4,697 x 1,882 x 1,676 mm |
| Wheelbase | 2,791 mm |
| Tyre Size | 235 / 55 R18 |
| Boot Space | 270 L – 2,005 L |
| Fuel Tank | 63 L |