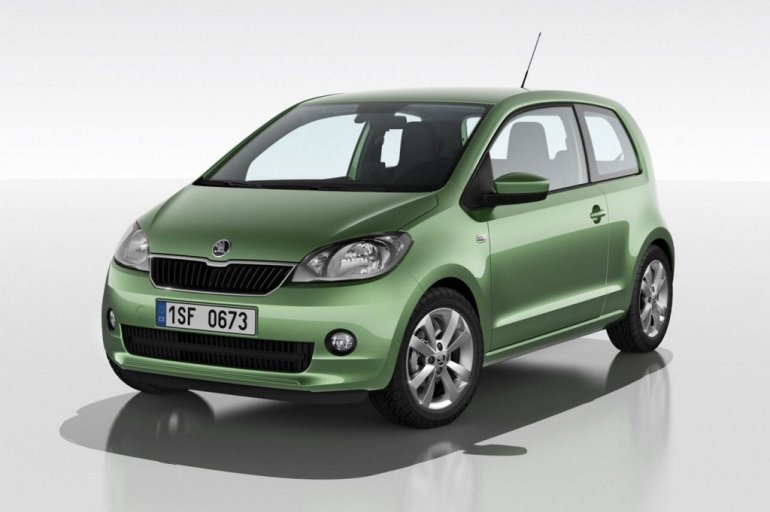 Have  you have been hiding under a rock and had no access to IAB? Then you might not have heard about the VW Up – the cheapest hatchback from VW about to make an India debut in 2012. However, it may not be the cheapest hatchback from the VW group if Skoda India has its way.
The Czech manufacturer has changed the grill and slapped a winged arrow badge on the VW Up! to make a whole new car – the Skoda Citigo – possibly Skoda India's cheapest entrant in Indian auto market. However, don't expect any 'Vision D' or 'Mission L' styling on the Citigo. As the chief USP of the Citigo is a cheap city runabout, Skoda has tried to keep the development cost as little as possible. Hence they haven't played around much with the Up. Its dimensions, weight, height and space are the same as the VW Up.
The customers will have a choice of two 1.0-liter three-cylinder petrol engines with 59 hp and 75 hp of power output respectively. Skoda is quoting fuel efficiency figures of close to 26 kmpl. The Citigo has a top speed of 170 km/hr.
Being a Skoda, the Citigo will be launched in the home market (Czech Republic) by the end of this year. Later, it will make its pan European debut by 2012.
Skoda India is mum about the launch of Citigo in India. However, if history is anything to go by, the Citigo is bound to make an India debut just after the Up.
Do you think we need another Polo-Fabia, Vento-Fabia sedan, Jetta-Laura sibling rivalry?
Skoda CitiGo Image Gallery
[Source - AutoBlog.com]