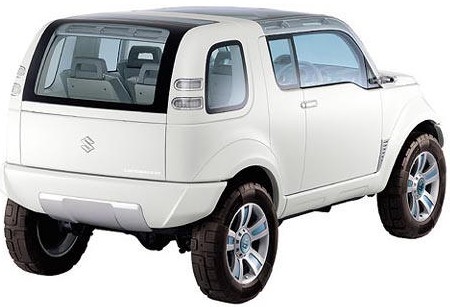 A 2-door Suzuki concept car shown earlier this decade
We hope this really happens
Back in 2005, a representative from Suzuki speaking to media in UK revealed the all-new Jimny would be brought out in 2009. Suzuki, tight lipped about the Jimny, lead many to believe there were no future plans for the vehicle.
Suzuki might plan to make Indian as an export base for the Jimny. The Jimny SJ series sold in India as the Gypsy. Despite its uniqueness, it was packed up a few years ago. With a 1.3-liter petrol engine, the Gypsy was India's first mini SUV in every sense of the word.
Autoten reports the concept version of the Jimny could make an appearance at the Auto Expo or the Geneva Motor Show in March 2010. The vehicle could move into production sometime in 2012.
While we can't vouch for claims from autoten, what this report does is reminds us of the forgotten Gypsy which could make a perfect case for a recreational vehicle in this era.
Source - Autoten