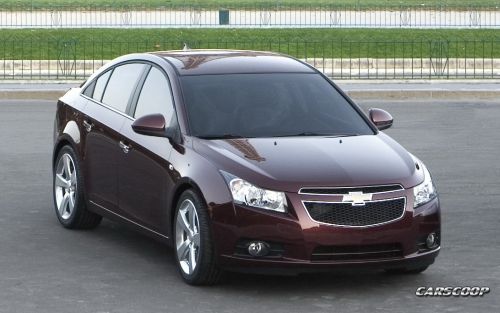 Chevrolet revealed official pictures of the 'Optra' replacement called the 'Cruze' at the special European premiere event at the "Le Pavillon Dauphine" in Paris. With aggressive design cues from the Cadillac division, the Cruze seems to be a great leap forward from the aging Optra.
The Headlamps from some angles, resemble those on the new Honda Accord, but nonetheless. Sales will begin in Europe in March 2009, and 2010 in the U.S. Sources say GM plans to bring this model to India by 2009 end.
With the European market in mind, the Cruze features stunning interiors (very strange for an American car!). We are quite skeptical about the same interiors making it to the Indian market. Three engine configurations are offered - 112 HP 1.6L and 140 HP 1.8L petrol engines and a new 2.0L turbo diesel, developing 150 HP and 320 Nm of torque.
The gearbox includes a five-speed manual and an all-new 6-speed automatic transmission. The 1.6L and 1.8L petrol engines deliver rest to 100 km/h (62 mph) acceleration in 12.4 and 9.8 seconds, with combined cycle fuel consumption of 6.7lt and 6.8 lt/100 km respectively.
The 2.0 diesel accelerates from standstill to 100 km/h (62 mph) in 9.4 seconds with a fuel consumption over the combined cycle of just 5.8 lt/100 km. Also in the pipeline is a 125 HP version of the 2.0 Diesel with 300 Nm of torque, which is likely to hit the Indian market first.
The Cruze will have to compete with the lower luxury level cars like the New Toyota Corolla Altis, Skoda Octavia, VW Jetta, Mitubushi Cedia and the market leader Honda Civic. However, if competitively priced and retained with the same European interiors, the Cruze is likely to be a certain winner.
Chevrolet Cruze Press Release

The first photographs of Chevrolet's all-new Cruze sedan - making its world premiere at the Paris Motor Show in October - reveal a dynamic four-door coupe that proves exciting design and value are not mutually exclusive.
On sale beginning in Europe from March next year, Cruze features a dramatic re-interpretation of the traditional sedan featuring Chevrolet's new global design language that is becoming a signature on all new products carrying the gold bowtie.
Cruze's arching roof-line, extending from the steeply raked windshield to its sloping rear pillars and short rear deck, brings coupe-like proportions to a compact sedan.
Wider and longer than most of its competitors, Cruze has a purposeful stance with its wheels located at the outer edges of the tautly drawn bodywork. Noticeably tight body panel fits and a restrained use of exterior trim add to a high quality, 'hewn from solid' appearance.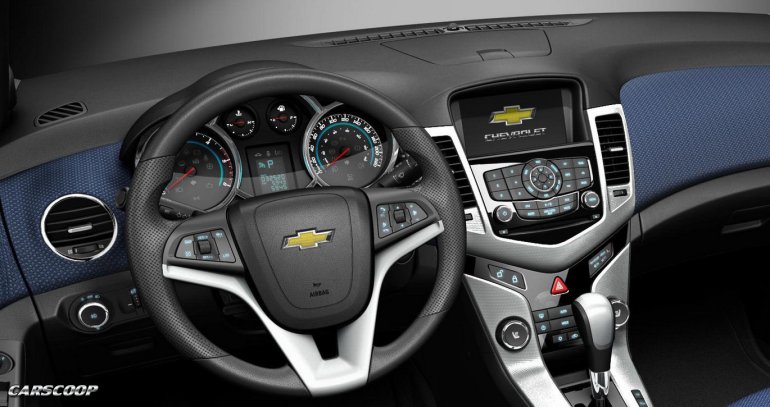 Cruze's dramatic profile is matched by bold front styling, with large headlamp housings that wrap around the front corners and sweep up, arrow-like, into the fenders and sculpted hood. Other distinct design themes include a concave shoulder line, the two-tier grille and a "wheels-out/body-in" stance. Inside, Cruze features a 'twin cockpit' design motif, first introduced in the iconic Corvette sports car.
"Our goal in designing Cruze was to be bold, not evolutionary," says chief designer Taewan Kim. "We wanted to take a big step forward, making a strong design statement for Chevrolet products around the world."
Visitors to the Paris show will see how Chevrolet's progressive design is also reflected in the quality of Cruze's interior. The use of grained surfaces, soft-touch materials and low gloss trim panels ensures a quality ambience that echoes the clean, harmonious design of the exterior.
At launch in Europe, Cruze will be available with 16-valve, 1.6-liter (112 hp/82 kW) and 1.8-liter (140 hp/103 kW) gasoline engines featuring variable valve timing (VVT) on both inlet and exhaust sides, giving more power as well as better fuel economy and lower emissions. A new 2.0-liter turbo diesel, developing 150 hp/ 110 kW and 320 Nm of torque adds power with even greater frugality. Five-speed manual gearboxes and an all-new automatic transmission, Chevrolet's first six-speed application in the compact segment, complete the powertrain menu.
With sales in Europe up by 23 percent for the first six months of 2008, Chevrolet is GM Europe's fastest-growing mainstream brand. The arrival of Cruze spearheads an exciting new product roll-out program that is expected to propel the brand to even greater success.
"We are proud that Europe is leading the introduction for this global product," said Wayne Brannon, Executive Director, Chevrolet Europe. "Chevrolet has always stood for expressive value and Cruze delivers on that promise like never before. It further redefines Chevrolet with its design, quality, materials and great style inside and out. The fit and finish for gaps and interfaces sets a new standard for this segment in Europe and around the world."
Cruze is the result of a development process harnessing GM's global expertise and is the first of a new family of compact products that will deliver world class quality. It will be backed by expected highest scores in all major crash safety ratings.
The Chevrolet Cruze will be available in Europe from March 2009, followed by other global markets with regional-specific engine choices.
Thanks to Carscoop for the images!