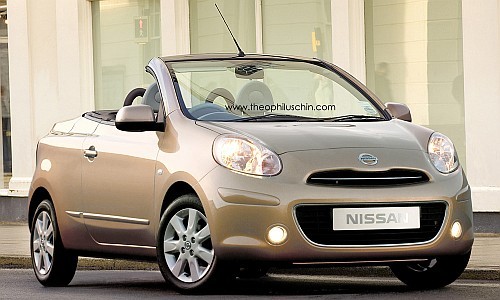 Will it cost Nissan the earth to build and market a convertible in India?
Why can't manufacturers try selling cabriolets in parts of India? They sell CNG vehicles in places that have the infrastructure for them, so why can't they sell Cabriolets in regions where the weather is pleasant mostly.
Can you find more excuses for why Nissan should flex the V-Platform to bring out a convertible Micra for India?
Globally, the current generation Micra has a convertible variant named C+C which was designed at the new London-based Nissan Design Europe studio, developed at the Nissan Technical Centre Europe at Cranfield, Bedfordshire and built at the Washington plant.
The electric folding glass roof is manufactured by Karmann coachworks and the vehicle sports a 2+2 seating arrangement. The rear seats are only meant for small children and shopping bags, so the practicality part, which is important for the Indian customer is out of the window.
As far as we know, Nissan will build only three vehicles using the V-Platform and those are the Micra, Micra sedan and Note MPV. Have they forgotten about the C+C or have they deliberately not reveled those plans?
But why practicality reasons stop Nissan from selling a convertible in India? Wouldn't you perceive Nissan differently if they sold possibly India's first mass-produced convertible (leave the San Storm out)? I don't think brands like Hyundai, Maruti or Tata are interested in convertibles. If Nissan wants to stand out, they should build some peculiar cars to keep everyone interested.
Source - Chin