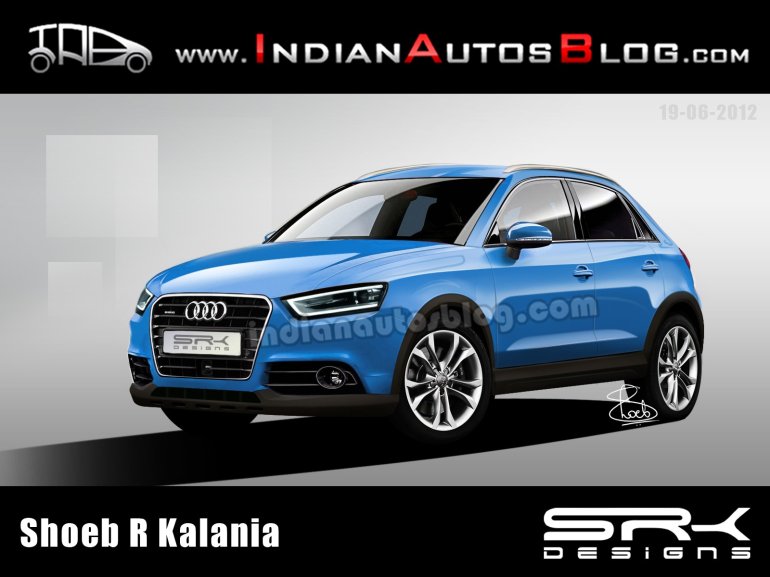 The 2012 Paris Motor show starts tomorrow and Audi is gearing up for a full fledged attack. Whatcar reports that the much awaited Audi Q2 could be previewed in its concept avatar at Paris.
Furthermore, the publication also reports that the concept could be a part of Volkswagen's traditional 'pre-show' evening today.
The Audi Q2 was originally supposed to be called Q1 because it will be based on the Audi A1 platform (VW Polo platform). However, Audi settled on 'Q2' moniker because it will offer a much bigger footprint than the A1.
The Q2 Crossover will be the smallest 'Q' model money can buy. It will offer customers the maneuverability of a hatchback and the tall riding position of an SUV.
Whatcar states that the Audi Q2 will be the wealthy sister of the VW Cross Polo. It will have a body-colored off-roading cladding. It will be offered in front wheel drive architecture. But four-wheel drive (with an electronic  differential) will be offered as optional for mild off-roading.
The engine line up would be borrowed from the A1 as well. The Audi Q2 will be available in five engine options:
1.4-liter TSI petrol engine rated at 125hp
1.4-liter TSI petrol engine rated at 185 hp
2.0-liter TDI diesel engine rated at 115hp
2.0-liter TDI diesel engine rated at 177 hp
A super powerful 2.0-liter TDI diesel engine with 220-hp exclusively for the performance version dubbed SQ2.
A 5-speed manual or a 6-speed DSG will be on offer.
Competition will comes from the Skoda Yeti, Nissan Juke, Mini Countryman and the upcoming three-door Mini Paceman.
We pitched the idea of the Audi Q2 to Audi India's Michael Perschke earlier in the year, and this is what he said [read the full interview here] -
The Q2 is not available anywhere in the world but the Q2 will come before the Q1. Whenever the Audi Q2 will be available globally, definitely it is something that would be looked at for India as well because by that time the Q3 will be very strongly accepted and the Q2 might be able to step down a category. People are anticipating the Q2.
The Q2 will be a new segment. It will be positioned between Q3, X1, Countryman.. somewhere in that space. It will be slightly smaller than Q3 but still a full-fledged SUV.
Stay tuned as we try to get you first official details of the Audi Q2.
[Source: whatcar.com]