Polaris Industries forayed into the Indian market with its range of All-Terrain Vehicles with the inauguration of dealerships in New Delhi followed by Ahmedabad last month and today afternoon in Chennai.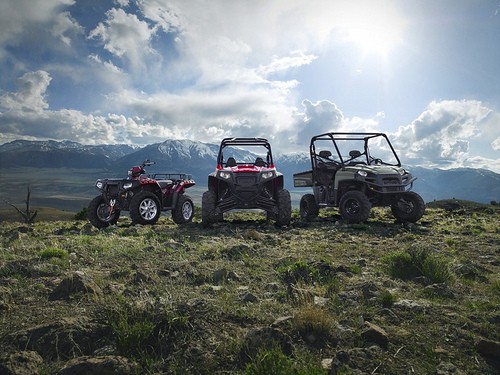 Polaris' exclusive Chennai dealer MPL Adventure Sports Vehicles Pvt Limited is bullish about the combination of different customer needs and conducive landscapes in Tamil Nadu for its model range.
Who is Polaris? Haven't I seen this brand somewhere?
Polaris is a global leader in off-road vehicles with over 57 years of experience in designing and manufacturing them. Their operations kicked-off with snowmobiles and today vehicles for every kind of customer is being made in Minnesota, North America. Earlier in 2011, they acquired Indian Motorcycles, America's first motorcycle company.
You would have seen the brand on the boundary billboards during India's tour of West Indies a few months back. The company also aired teasers on television during the same tournament.
Who is the target customer for Polaris?
Besides adventure junkies, Polaris is targeting government and military opportunities and has initiated dialogues.
Where can I drive a Polaris ATV in India? Are they road legal? Do I need a driving license?
These ATVs cannot be used on the public roads. While that's a disadvantage, the bigger advantages are they don't need registration and the hassles that come along with them. Though one does not need a driving license to operate, the company stressed customers have one.
Where does one drive these vehicles then?
1) Forest officials - One cannot use conventional modes of transport to get to remote places in a thick forest. An ATV can do this job without breaking into a sweat.
2) Tamil Nadu has over 1,000 km of coastline. Police patrolling the densely populated beaches cannot use expensive 4WD vehicles.
3) Construction sites - Construction sites that spreads across of 100's of kilometers in rainy areas can employ ATVs for transporting personnel and goods.
3) Mining and Exploration - A similar case where fuel efficient and capable vehicles are required for patrolling and transportation.
4) Agricultural and Farming needs
5) Adventure sports - A rapidly upcoming business in India and a kick-ass weekend stress buster for 9-5 office goers.
What are the range of models? How many people can it seat?
The range can be classified into ATV (single seater with a handle bar) and Side by Side (has a steering wheel and seats two). The top-end model of the Ranger series seats six people. This vehicle has been designed so that it does not dirty the lawn by leaving a footprint. There are total of 140 combinations one can pick from and this does not include the color choices.
Tell me about the strategy of Polaris in India
Polaris  imports vehicles into India as CBU (Completely Built-up Units) from America. It has both petrol and diesel fuel options. Dealers will park vehicles in a mockup of its natural environment. The retail strategy is to have 10 dealers operational by late 2011 and 25 by end of 2012. They have a warehouse in Delhi from where spares will be distributed to dealers. A small workshop is part of the dealer infrastructure but a van with the essential equipment and tools will reach customer's doorstep in case of unscheduled service. A dealer takes three-five years to breakeven and MPL Adventure Sports believes it can reach this stage in three years.
Head over to Polaris India's official website for all the information about its product range.
Based in Chennai and interested in a Polaris ATV? Shoot an email to MPL Adventure Sports Pvt LTD at mplpolaris (at) gmail.com
Polaris ATV Image Gallery (Select Models)
can't see the image slideshow above? Head over to the Polaris ATV Image Gallery page on Flickr to see the images.