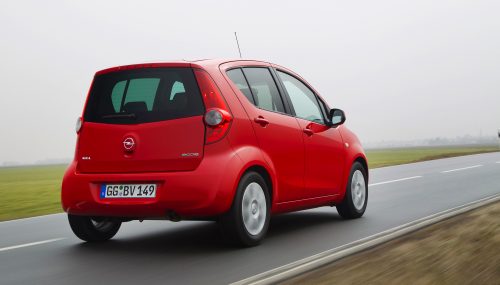 Opel has equipped its Agila hatchback with a Start/Stop system as part of the Agila's upgrade to the Euro 5 emission standard and a Co2 optimization package. The Agila is basically the Suzuki Splash (Maruti Suzuki Ritz in India) hatchback, re-modeled and re-badged as an Opel for sale in Europe by Opel. The car is powered by a 1.2-litre petrol engine producing 94 bhp.
The incorporation of the Start/Stop system on the Agila will help it spew out fewer Co2's and also make it sip lesser fuel. A Start/Stop system basically prevents a car's engine from consuming fuel whenever its not required. The Start/Stop system cuts off the engine whenever the car's transmission is in the neutral position and the clutch pedal has been released. To bring the engine back to life, one needs to just depress the clutch pedal and voila the engine's running again.
A Start/Stop system proves highly advantageous in city limits by shutting of the engine whenever the car's idle, thereby decreasing fuel consumption.
Start/ Stop systems are slowly gaining ground in India with UV's such as the Bolero and Scorpio fitted with the system having found reasonable success. Maruti has plans to make its lineup of cars more eco-friendly by fitting them with LPG and CNG kits. Maruti could look at bringing in Start/Stop systems on its petrol powered cars in the future to improve their efficiency and decrease emissions. They have to find a way to explain the benefits of this system which is not very expensive.
The incorporation of the Start/Stop system on the Opel Agila helps it achieve a fuel consumption figure of just 5.0 litres per 100 km. There is also a drop in the amount of C02 spewed out by 2.5% to 116 g/km, when compared to the standard car without the system.
The ecoFLEX package consisting of the Start/Stop system for the Opel Agila has been priced at 300 Euros (Rs. 17,118). The system includes:
* Start/Stop System
* Enhanced battery
* Intelligent battery management with battery sensor
* Switch-off button for manual control